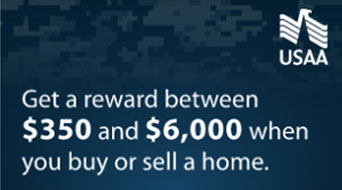 Coldwell Banker is a preferred provider of relocation services through USAA.
As a USAA member, you get:
Receive cash back or a credit when buying and selling a home
A USAA ® Real Estate Rewards Network Coordinator
Access to preferred real estate brokers and specially-selected agents trained to assist USAA members on the move
One Stop Shopping: USAA offers its members a complete line of exclusive services to finance and protect their homes.
Quick and simple Mortgage Loans
Low-rate Homeowners Insurance
Flexible Life Insurance policies
Discounted home security and home warranty plans.
We Are Your Experienced USAA Brokers:
Only a select group of top brokers earn the right to become a USAA ® Real Estate Rewards Network Preferred Real Estate Company.
Our Preferred Real Estate Companies are performance leaders in both sales and service in their markets.
Agents are selected based on their real estate experience and knowledge, and must consistently demonstrate best practices in customer service.
Each year agents must complete two training sessions that help them provide superior customer service and meet the unique needs of USAA members.
Reward offer limited in some states. Reward amount is based on sale price of home sold or purchased and cannot exceed $6,000 per transaction. To receive the maximum amount offered of $6,000, the sale price of the home sold or purchased must be $1 million dollars or more. In 2014 the average member closing in the program received $1,100. A reward is not available in Alaska, Louisiana, Mississippi, and Oklahoma. In Kansas and Tennessee, a gift card will be issued that is accepted at specific retailers. State regulations in Kansas limit the dollar amounts and the type of reward. In Oregon, a commission reduction may be available at closing. In New Jersey, a commission credit may be available at closing. Please check with the program coordinator for details. You must be enrolled in the program and be represented at closing by an approved agent with a participating real estate firm in order to qualify for the reward. Reward not available to sellers in a short sale transaction. In certain states the buyer may need seller cooperation in order to participate in the reward program. Availability restrictions apply.
Use of the term "member" does not convey any legal, ownership, or eligibility rights for property and casualty insurance products. Ownership rights are limited to eligible policyholders of United Services Automobile Association.
USAA means United Services Automobile Association and its affiliates.