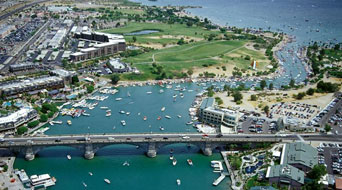 How about a Furnished Rental Home This Winter in Sunny Lake Havasu City?
Our comfortable and affordable, furnished rentals offer you the perfect home away from home!
Lake Havasu City is the place to be during the winter months with mild temperatures and an affordable easy lifestyle.
Coldwell Banker Residential Brokerage offers a huge selection of furnished, seasonal rental homes, condos and town homes in great locations with rents to accommodate any budget.
When it comes to finding homes for rent, trust our experienced property managers to locate the perfect furnished, seasonal rental home for you.
Why renting a home or condo makes perfect sense
Lake Havasu is a fun and exciting place during the winter months. There's no shortage of things to do...golfing, boating, fishing, swimming and hiking. But you also need time to restore. Quiet hours for reading and napping, enjoying wonderful meals at home...just good old down time.
But you won't get that in a hotel or motel.
What you need is a home away from home. A safe, secure place that you can lock up and leave for a few days while you're in Vegas...or a place for hibernating when you just can't put down John Grisham's latest bestseller. A place that's yours, if only for a few months.
Renting a furnished home, condo or townhome just makes so much sense. Finding a great place to stay is far and away the smartest thing you can do to assure a fantastic winter getaway in Lake Havasu City.
Let us find you the perfect rental home
Coldwell Banker Residential Brokerage specializes in catering to the needs of our winter visitors. In fact, our satisfied clients come back to us year after year. Whether they're from Montana or Manitoba, they simply don't trust their vacation home rentals to anyone else.
And one of the reasons that we can offer hundreds of furnished, seasonal rental properties is because our longtime homeowners/landlords won't entrust their properties to anyone else, either.
Why is Coldwell Banker Residential Brokerage such a trusted resource for both landlords and winter visitors?
Because no one knows the local home–rental market better than our professional property managers, all longtime residents or natives of Lake Havasu City. It also helps that Coldwell Banker is one of the most trusted names in real estate with a strong local presence and rental network that extends across the globe.
Book early!
Lake Havasu City is a great place to spend the winter. For many of our clients, it's the only place to spend the winter.
We offer an extensive list of furnished, seasonal rental homes, condos and townhomes. The best ones go fast. Go ahead and click on the big blue search button above. Or contact Paula Singleton in our office to find out about booking your next home away from home!
Oh, and just in case you fall under the spell of Lake Havasu and want to extend your stay on a permanent or near-permanent basis...check out our unfurnished, long-term rental properties.