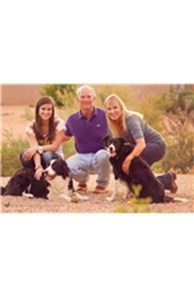 Associate Broker
Email

jeff.mcdowell@azmoves.com

Phone
Office
Scottsdale Arizona Coldwell Banker Associate Broker, Jeff McDowell. Over 38 years of full time real estate industry involvement.
Designations
Smart Home Certified
More about Jeff McDowell
Business Philosophy
Coldwell Banker Agent Jeff McDowell
My basic business philosophy is to keep it "simple", listen, and solve the problems at hand....
I pride myself on being a member of the real estate industry in multiple facets. Experienced in all aspects of the real estate industry I have practiced the following:
Real Estate Brokerage Owner (Re/Max Texas Heritage Realtors for 23 years)
Residential Real Estate Development
Multi-Family Real Estate Development
Commerical Office Development
Commercial Site Selection and demographics analysis
Commercial Strip Development
Golf Course Residential Development
Subdivision Development
Luxury Housing design, construction and development
With over 38 years of experience, I have seen it all...well, almost.  The world of real estate is dynamic and ever changing. I require myself to stay updated with the latest changes and market trends in the industry.
To see how I stay on top of the ever changing market please visit my main website at JEFFMCDOWELL.ME
Representing my clients as "ONE RELATIONSHIP AT A TIME".
Education and Training
Coldwell Banker Real Estate Agent Jeff McDowell
I began my real estate career shortly after graduation from Texas A & M University. I continued on in Graduate School at Texas A & M University pursuing a Master's Degree in the College of Architecture, Construction Science.
Implementing my construction background with the market of real estate, I have a knowledge of two important components of the industry, the people aspect and the bricks and sticks aspect.
During my career, I have owned brokerage firms, marketed properties and made a tremendous amount of friends in the process. While there is a significant amount of technical aspects to the industry, none of this works without relationships....and those I cherish.
Highlights of My 38 Year Career in Education and Training
Bachelor of Science Degree Texas A & M University 1977
Admitted to the Master's Program College of Architecture Construction Sciences, Texas A & M University 1978
Realtor of the Year, Bryan/College Station Association of Realtors 1983
Texas Association of Realtors State Director 1985-1988
Texas Real Estate Political Action Trustee, 1986-1992
Consultant to the Texas House of Representatives on modification of the Texas Real Estate Act 
Awards And Designations
Coldwell Banker Realtor Jeff McDowell
Bryan College Station Association of Realtors Realtor of the Year 1983
President Bryan College Station Association of Realtors Multiple Listing Service 1985
Director Texas Association of Realtors 1986-1988
Trustee, Texas Real Estate Political Action Committee 1986-1992
President Bryan College Station Association of Realtors 1990
Vice Chair Scottsdale Association of Realtors Realtors Political Action Committee 2015-6
Areas of Expertise
Scottsdale Coldwell Banker Real Estate Agent Jeff McDowell
Real Estate Expertise
With 38+ years of experience, I have had the opportunity to be involved in many faces of the Real Estate Industry:
Luxury Home Sales
Equestrian Property (all disciplines with special knowledge of arena footings for the discipline and the special needs of each discipline)
Golf Course Home Development and subdivision design
Commercial Office design, construction, investment and leasing
Commercial Office Warehouse Design and Development
Commercial Strip Center Development, Management and Design
Commercial Industrial Site Selection and Construction
Subdivision Design and Feasibility
Multi-Family Design, Development and Management
Treating each transaction as "One Relationship at a Time)
Community Involvement
Community Involvement
With as many years as I have been involved in the industry I try to give to the community without expectation of receiving anything in return.  Through the years I have had the pleasure of being associated with or served in Leadership Roles in the following Organizations:
March of Dimes
Crime Stoppers
Boys and Girls Clubs
Leadership Brazos
Chamber of Commerce
Little League
Communities I Serve
Full Time Real Estate Coldwell Banker Realtor Serving 
The Communities of
North Scottsdale

Cave Creek

Carefree

Rio Verde

Rio Verde Foothills

85255 Scottsdale Arizona

85262 Scottsdale Arizona

85377 Carefree Arizona

85331 Cave Creek Arizona

85085 Phoenix Arizona