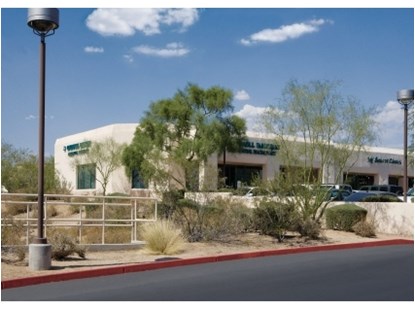 23341 N Pima Rd Ste 135

,

Scottsdale

,

AZ

85255
More about Scottsdale at Pinnacle Peak
Thank you for visiting the Pinnacle Peak office of Coldwell Banker Residential Brokerage A select group of client-centered real estate associates in this office are happy to serve you in the North Scottsdale area, known for its luxury homes, ranches, horse properties and fine golf course communities .The North Scottsdale office looks forward to introducing you to the unique lifestyle of the Sonoran Desert.
The Pinnacle Peak Office services the North Scottsdale area of the beautiful Sonoran Desert. This area is a destination market for primary and second home owners seeking a particular lifestyle. Lifestyle choices include exclusive golf communities; custom homes with mountain and city light views; horse and ranch properties; and resort-style communities. The community is the home of many specialty venues such as the Phoenix Golf Open; the prestigious Arabian Horse Show; the Barrett Jackson Car Show, a variety of Art Fairs and much more! Dining choices and specialty shopping abounds in and of course beautiful sunny, warm weather!
The Pinnacle Peak independent sales associates are a powerful force in the real estate community. These high energy groups of sales associates are an elite group who represent their clients with the highest standards of knowledge and professionalism. Their expertise and skill has earned them the respect of their colleagues and the distinguished clients they serve.
The office is led by Gil Smith who has extensive experience in the real estate industry. Gil is committed to helping independent sales associates stay on top of the leader board by providing incredible tools, resources, constant education and real-time market information. If you have a real estate need, please contact Gil and he will help you identify an independent sales associate to take care of you.
If you are a sales associate and you are searching for a company/manager that truly cares about your real estate business, please call Gil.

(Maricopa County/Northern Arizona)


Click to expand this Education Calendar
As an independent contractor sales associate affiliated with the Company, you may choose to participate in or use a variety of resources, tools, technologies and educational opportunities available to you. Company educational materials, programs, or meetings that are not for compliance (compliance includes, but is not limited to, licensing requirements, fair housing, RESPA, data privacy, records management) are optional for independent contractor sales associates. Use of any suggestions or best practices in such materials or programs is discretionary. Your affiliation with the Company is intended to be that of an independent contractor sales associate, not as an employee of the Company.