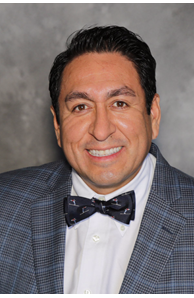 Branch Manager
More about Ricardo Cortazar
Ricardo Cortazar is an Associate Broker and Branch Manager of Coldwell Banker Residential Brokerage office serving the agents of Tempe-Ahwatukee with more than 20 years of real estate experience.
At Coldwell Banker®, our agents are the most important part of our business. As your Branch Manager, my number-one priority is helping YOU live an exceptional life. In 2018, Coldwell Banker Residential Brokerage launched their Core 4 Values. From business-building tools and income-enhancing opportunities to world-class education and support, these values focus on the things that drive agent success and are the basis for everything we offer.
Production Power: Coldwell Banker helps agents sell more homes, make more money and work more efficiently. One way that we've helped our agents work more efficiently is with the launch of the Listing Concierge. The Coldwell Banker Listing Concierge program is your one-stop shop when it comes to marketing your properties. With three different packages to chose from, the concierge provides three levels of white-glove marketing services to chose from, giving you the freedom to run your business and not worry about every detail of your property marketing. We also offer a comprehensive suite of business-building tools and resources provided to you at a fraction of market value. From an interactive listing presentation tool and a powerful CRM platform, Coldwell Banker invest in the things that can help promote your business.
Coaching to Confidence: We enable agents to expand their sales and business development skills through effective education, coaching and support. My number #1 goal as your branch manager is to help you develop your skills and enhance your knowledge with local access to the industry's best educational programs. One of the ways we have helped our agents develop their skills is through the Achieving Maximum Productivity (AMP!) class. This comprehensive education program is for new and experienced agents alike. The program includes live classroom instruction, self-paced modules, and interactive online learning all designed to boost your effectiveness through the tools and strategies that the 'best of the best' use to drive stronger results. In addition to AMP!, Coldwell Banker also host a yearly education expo that includes agent panels and guest speakers, as well as, in-office trainings offered by our marketing staff on the best ways to utilize the tools offered to you as an affiliated agent.
Culture of Awesomeness: We provide a diverse environment that is collaborative, supportive and fun. We are a company that inspires pride. Coldwell Banker Residential Brokerage is a world-class sales organization and recognizes that affiliated sales associates are the company's most valuable resource. That's why we put together a culture of awesomeness to applaud agents performances in a number of ways throughout the year. The annual awards gala is hosted at a luxury hotel and includes an overnight stay for two, fast-paced awards program, food, cocktails and entertainment. A perfect way to celebrate a year of success. In addition to the annual gala, on track events are hosted each quarter to honor sales associates for their quarterly sales excellence. Associates and their guest will enjoy an unforgettable celebration in their honor. We also know the best way to build up Coldwell Banker is through our agents referring other agents to our company, and that's why we started the Platinum Club. Sales associates that qualify for the Platinum Club will enjoy a night out at a luxury hotel with dinner and drinks.
Wealth Builder: We offer real financial strategies that agents can use to grow and protect their personal wealth, now and into the future. Our Freedom Commission Schedule allows sales associates to make better choices with their money, convenient SEP savings opportunities makes retirement funding easy, and as a sales associate, you're able to build a lifetime of passive income by referring friends to any of one of the NRT family of companies. Every year we also host a Health and Wealth Expo where top professionals share ideas on real estate investments, personal health, tax planning and money strategies. You'll also have access to legal assistance which will provide coverage to settlements and legal fees. At Coldwell Banker, we believe your best years are ahead of you.
If you're ready to take your career to the next level, contact me @ 602-418-0457 to set up an appointment to find out how Coldwell Banker can assist you and your career!