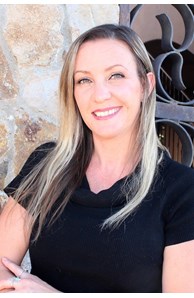 Sales Associate
Email

sarah.lawrence@azmoves.com

Phone
Office

Foothills

2890 E Skyline Drive Ste 250, Tucson, AZ 85718
More about Sarah K Lawrence
Hello there!
I was blessed to have been born and raised here in Tucson, Arizona. I grew up on the far east side of town for most of my life and have spent a lot of time exploring all parts of our beautiful, growing city! Have you found the hidden gems in this gorgeous city yet?! I'll definitely let you in on a few of them! :-) I know I still haven't found all of them, yet!
I am actively involved with Habitat For Humanity and am obsessed with riding my motorcycle most days (yes I will answer my phone while riding due to my Sena headset). I currently am an admin for two local Facebook pages; one is a yard sale page and for all you hunting and fishing people, I have one for you as well! Another hobby I thoroughly enjoy is skeet (pigeon) shooting. That is when I find the time to get out there :-) Last but not least, I am in love with gardening! Most say I have a green thumb and love what I have accomplished outdoors.
I really enjoy helping others, especially when it comes to getting what they want. Having been a caregiver for over 10 years, you definitely look for what isn't being said out loud. I'd say I'm pretty good at helping others live the life they choose and assisting them in getting exactly what they want. I will definitely strive to achieve the end goal you have set for yourself.
We all want to have a moment that gives us a feeling of "Yes! This is the one!" or "That's the one I'd love to turn into something beautiful for a future lifetime memories!" I can promise to assist in making one of your major purchases (or the sale of your beloved home) in life the best experience I personally may provide for you. I am hardworking, dedicated and knowledgeable in the market, neighborhoods and will do my best to achieve your end goal.
I remember walking into the store one evening for a bottle of conditioner and thinking "This is out of control with so many choices!'... There's sooooo many to choose from, right?! I am here to help YOU find what you want and need without the extra stress of finding or selling a home on your own. I am here to fight for you and serve you! Yes that also means I have received my MRP (Military Relocation Professional) Designation :-) Ladies and gentlemen I am here to help your transition in or out of town as memorable, quick and easy for you as possible.
Here to walk you through every step of the way! Thank you for your time ;-) We all know it's very valuable!