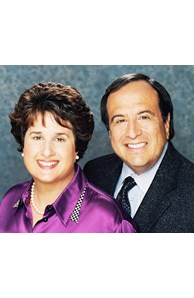 Email

mark@markrogo.com

Phone
Office
Respected throughout the brokerage community for their honesty, integrity & work ethic, Mark & Lynn Mirisch Rogo are proud to offer the highest caliber of personal service.
Connect with the Team
Awards

International President's Elite Team
More about the Team
Personal Background
Mark & Lynn achieved Coldwell Banker's highest award for 2012 Society of Excellence, selling 34 properties valued at over $53 million dollars, ranking them # 31 in all of Southern California & # 7 at Coldwell Banker Beverly Hills North, # 1 office in the world! Mark brings to his career extensive knowledge & experience in finance, business management & real estate investments that give him a definite edge in today's competitive marketplace. As a lifelong resident of Beverly Hills & Westwood, Lynn has widespread knowledge of the marketplace, giving her a definite edge in helping buyers & sellers achieve their goals. 
"Clients say my enthusiasm is contagious," says Lynn. Although they specialize in the marketing & sale of property in Westwood, Little Holmby, The Wilshire Corridor, Beverly Hills, Bel Air, Century City, Brentwood & Cheviot Hills. Mark & Lynn have represented buyers & sellers beyond these communities from homes on Malibu's La Costa Beach to West Hollywood & Mar Vista. "We go wherever our clients need us." The hallmark of their success is their attitude;
"You're not just a Client, You're Family." The Rogo's are service oriented with great attention to detail. Great negotiating skills along with their ability to guide a deal to its smooth conclusion completes the package. 
"We've worked diligently for all our buyers & sellers. Repeat business & referrals are the result," says Lynn. "I love what I do."
Having resided in Westwood for the past 38 years, Mark & his wife, Lynn, are able to provide their clients with a wealth of useful information regarding the area, from schools & neighborhoods to the most current trends in the real estate market. As a result of their ongoing involvement in the community, they have established their legitimacy as trusted & dedicated professionals. Mark is an elected member of the Westwood Neighborhood Council, President of the Blair House Homeowners Association, Incoming President of the Westwood Village Rotary Club, Past Secretary/Treasurer of the Holmby–Westwood Homeowner's Association & The First President of the Friends of The Westwood Branch of the Los Angeles   Public Library. In addition he has volunteered for The American Technion Society, Hadassah Associates, & the local Alumni Club of The University of the Pacific.
Lynn served for 12 years on the Board of Temple Isaiah & has spent 35 years volunteering for Hadassah, who honored her at their major luncheon in 2012. Having served as PTA president of Warner Avenue School & staying in touch with other alumni from Beverly Hills High School, Lynn has a large solid base of neighborhood friends. In their spare time, Lynn & Mark belong to a country club in the community where Mark enjoys golf & Lynn enjoys entertaining. The Rogo's have 2 grown daughters, a son-in-law & a beautiful baby granddaughter. Their favorite time of the week is Sunday night dinners with the family.
Backed by the tremendous resources of Coldwell Banker, Mark & Lynn look forward to assisting you with all of your real estate needs.