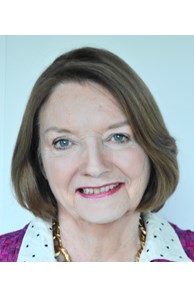 Associate Broker
Cal BRE#: 00628030
Email

joansaidy@hotmail.com

Phone
Office
More about Joan Saidy
Professional Background
A licensed Realtor since 1977 and a licensed Broker since 1990, Joan has attained a reputation in the real estate community as an intelligent, skillful and dedicated professional.
A background in architecture and design has proved beneficial in helping clients uncover those "diamonds in the rough" properties. Vision and imagination are two essential attributes which she encourages her clients to attain. Her philosophy is to achieve a "win-win" result in any negotiation. This, Joan feels, is a reliable way to assure a solid transaction and maintain a loyal clientele.
A Certified Corporate Property Specialist, Joan works with corporate sellers who are relocating, as well as, those being transferred to the Bay Area. Many years in the business has given her an extensive networking system which translates to a competitive edge for her clients. Hillsborough, San Mateo and Burlingame are her cities of concentration, but she has listed and sold up and down the Peninsula.
Joan and her husband have raised three daughters on the Peninsula and she has been an active volunteer, including PTA President and Chair-person for various fundraisers.
"You have been such a dream to work with. We have enjoyed your common sense approach, your professionalism, your friendliness and your wonderful sense of humor."
This is a quote from one of Joan's buyers--she looks forward to talking with you.

SAN FRANCISCO PENINSULA
I AM A BROKER ASSOCIATE WHO HAS BEEN SERVING MY CLIENTS' REAL ESTATE NEEDS FOR OVER 25 YEARS.  MY CONCENTRATION IS
PRIMARILY SINGLE FAMILY HOMES AND CONDOMINIUMS IN HILLSBOROUGH, BURLINGAME AND SAN MATEO.  OUTLYING CITIES SUCH AS
ATHERTON, SAN CARLOS, AND MILLBRAE ARE ALSO READILY AVAILABLE.
MY HUSBAND AND I HAVE RAISED 3 BEAUTIFUL DAUGHTERS HERE AND I HAVE BEEN ACTIVE IN THE SCHOOL SYSTEM AS PRESIDENT
OF THE PTA AND CHAIRMAN OF VARIOUS COMMITTEES.  EDUCATION BACKGROUND IS A COLLEGE GRADUATE PLUS ADDITIONAL COURSES
TO QUALIFY AS A BROKER.
HOBBIES INCLUDE TRAVELLING, GARDENING, READING AND ENTERTAINING.  I HAVE VOLUNTEERED WITH HABITAT FOR HUMANITY,
CHILDRENS' HOSPITAL AND GOOD SAMARITAN HOUSE.
MY EXPERIENCE COVERS THE PANOPLY FROM FIRST-TIME BUYERS TO MULTI-MILLION DOLLAR ESTATES.  I AM DESIGNATED AS A "PREVIEWS
PROPERTY" (HIGH END) SPECIALIST,  AS WELL AS, "CERTIFIED CORPORATE PROPERTY" SPECIALIST (RELOCATION).
PLEASE GIVE ME A CALL OR E-MAIL TO BEGIN YOUR NEW REAL ESTATE JOURNEY.  I WOULD LOVE TO SPEAK WITH YOU!
JOAN SAIDY
650 773-5933
joansaidy@hotmail.com