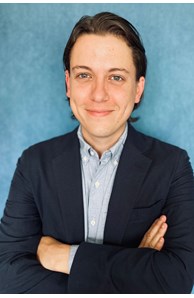 Sales Associate
CalRE#: 02127543
"It's Spencer, your favorite realtor!"
More about Spencer Curnutt
"The future belongs to those who believe in the beauty of their dreams." – Eleanor Roosevelt
I have been a member of the Los Angeles community since 2015. I moved here from the Midwest with my wife and our fur babies to pursue our dreams on the West Coast. From day one we fell in love with the city, the people, the art, and the food. Whether it's enjoying music on a summer night at the Hollywood Bowl, catching some rays on the beaches of Malibu, enjoying a michelada and garlic fries at Dodger Stadium, or exploring the trails at Griffith Park, LA keeps proving it is a mecca of culture, diversity, and entertainment. The excitement I found from discovering our new home here in Hollywood has inspired my passion to help you find yours!
Prior to becoming a realtor and joining Coldwell Banker, one of the most trusted real estate companies in the world, I spent the last 10 years in the entertainment industry. As a professional actor and musician, I have always approached my work with enthusiasm and integrity using the skills of communication, preparation, and negotiation. I have learned to be adaptable, nimble, and trusting of my instincts, traits I believe are essential in the fast-changing world of real estate. What fuels me as an artist is the desire to make a difference in people's lives, and it is that same desire that drives me to be of service as a realtor.
It is a pleasure to assist others with some of the most exciting and important life decisions we make, such as buying a home or letting one go. There are few instances in life as monumental as buying your forever home or leaving one that you have poured memories into. These life changes are a part of your story, and I believe that every great story-telling venture requires the collaboration of a great team. With me and Coldwell Banker, you have found that team and more. With us, you can expect thorough preparation, one-on-one advice, personalized recommendations, timely updates, reliable information, anytime access, and most importantly, integrity. You will be cared for with respect, honesty, and kindness, and can rest assured that I will always have your best interest at heart.
MY dream is to one day own a home that has two things: a chef's kitchen and an open concept floor plan for spending time with my family and entertaining guests around my Steinway baby grand piano. What does your dream home look like? Contact me at (317) 385-7759 and let me know!