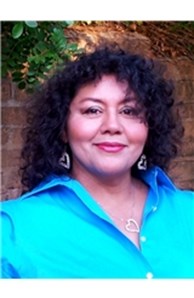 REALTOR®
CalRE#: 01453524
Email

casabellabyruth@coldwellbanker.com

Phone
Office
Meet Ruth: She takes the word 'AGENT' to heart!
Connect with Ruth
Languages other than English
Spanish
More about Ruth Martinez-Infante
"I've never known an agent to provide such extensive updates and status reports so generously. Throughout the entire process of selling Dr. Ati's home, she has been nothing but extremely generous, attentive, gracious, accommodating, conscientious, ultra-reliable and most pleasant and charming to work with! We couldn't be more please with Ruth for the tremendous effort she made on Dr. Ati's behalf to get his house sold at the price he wanted. She found creative solutions to save Dr. Ati money on necessary expenses that he incurred in preparing the property for sale. She was always there and available, 'holding out hands' through the entire process. We couldn't have found a more honest and helpful agent than she." –Dr. Maha Ati and Carolann Nevins
Community Involvement Mrs. Martinez has been living locally for over 30 years. Her children were a part of Old Spanish Days Fiesta and her daughter Paloma was even Spirit of Fiesta! Knowledge of each neighborhood and crevice of this precious city is second nature to her, due to her long love affair with the city and its rich history. Community advocacy in education also drives her. She participated in the P.T.A and won an award for her volunteer work there. Some of her achievements: Instituting the Kermesse Festival as a means of fundraising/increasing the participation of the Latino community in schools, representing the Spanish-speaking body of El Camino School in the District, as well as volunteer work at the D.E.L.A.C. and C.E.L.A.C. She also successfully advocated at the state capitol in Sacramento for the reduction of the student-teacher ratio.
Personal Background A full-time Real Estate Agent with 10 years of experience, customer satisfaction, and advocacy is a part of her DNA: She has been in sales for 30 years--Since her professional beginnings selling time-share in the resort town of Cozumel, Mexico. Before finding her passion in R.E., she attended a year of medical school in her beautiful hometown of Oaxaca and even studied at SB Business College in Legal Systems. A scholar at heart, Mrs. Martinez is also a simultaneous Interpreter and Translator in English/Spanish which also allows her to represent the Spanish Speaking Community and international buyers.
"I am committed to strong, long-lasting relationships, whether they are clients or good friends, or both. To see them living happily and peacefully in their dream homes year after year gives me the utmost satisfaction. I am confident I can be your agent for life!" -Ruth
"Me comprometo a tener una fuerte y duradera relación, ya sea con mis clientes, buenos amigos, o ambos. Verlos viviendo feliz y pacificamente en la casa de sus sueños, año tras año, me da la mas grande satisfacción. ¡Puedo decir con toda confianza que puedo ser su agente de por vida!"-Ruth