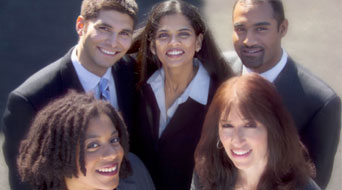 Over the past few decades, we've seen large population increases in our area among all social and ethnic groups. There's been a great deal of change in a relatively short amount of time and this can be challenging. But at Coldwell Banker, we've dedicated ourselves to understanding the communities we live in and serve.
We've implemented a company-wide diversity program that focuses on:
Implementing a strong diversity education program for all of our existing and new Sales Associates and employees
Developing our sales force and employee group so it accurately represents the ethnic make-up of our changing marketplace. This includes regularly holding diversity job fairs and placing recruiting ads in ethnic publications
Creating a company environment that is inviting to all ethnic backgrounds, cultures, and religions through our education and recruitment efforts and community outreach events
Most studies show that owning a home is really the American dream for people in this country, no matter what their ethnic or cultural background, or their national origin. Therefore, it's important for real estate companies like Coldwell Banker to take a leadership role in reaching out to diverse communities and listening to their needs. It's also essential that we recruit and train our Sales Associates and employees so they have the skills and sensitivity to help people from culturally diverse communities understand the home buying process and help them successfully buy the home of their dreams.