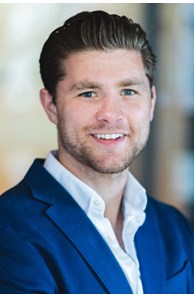 Sales Associate
Email

devin.weintraub@cbmoves.com

Phone
Team
Office
More about Devin Weintraub
I'm a licensed Real Estate Agent in the State of Connecticut and New York, focusing my work in Fairfield County. I grew up in Weston, Connecticut, and graduated from the University of Rhode Island with a B.A. in Computer Science. After beginning a career in computer programming, with much support of my friends and family, I took the leap into following my passion: real estate. I began my real estate career in the best city in the world, New York City. If you can make it there, you can make it anywhere, right?

I currently live in Norwalk, and am much more satisfied practicing real estate in an area and within a community that's truly been home to me for a majority of my life. As an owner of commercial and residential properties myself, I fully understand the process and emotions that buyers and sellers experience - and I experienced them recently, too. Because of this, I have a deeper connection to buyers and sellers, and value the responsibility of aligning with the ultimate goals of my clients.

Becoming a homeowner in my mid-twenties was an exciting accomplishment. What made it such a positive experience for a first-time homebuyer like me? My real estate agent. Typically, people view home buying and selling as a chore and dread to get the ball rolling. Even when the ball is rolling, they hope it'll be over with soon. It shouldn't be like that. I'm here to continue to help break the stigma. Outstanding real estate agents like the one who helped me purchase my first home are few and far between. I understand the gap in the market in this aspect, and I strive to fill it. Let me take care of the tough stuff! I can't wait to work with you and provide a fresh and positive approach to transparency, communication, and dedication to your individual goals.

I firmly believe that you should pick your real estate agent as you would pick your financial advisor. Real estate agents should be held to the same level of expectations as these financial advisors because, after all, they're helping you invest hundreds of thousands of dollars into your future, too. As a REALTORS®, I always aim to provide creative service and integrity in every detail of your real estate transaction.

In my free time, I enjoy racing cars at the racetrack, traveling, and spending time with my family, fiancé, and Golden Retriever puppy, Bo. Please don't hesitate to reach out to me with no obligation - I'm looking forward to hearing from you.