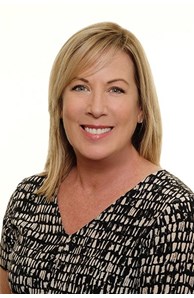 Branch Manager
Phone
Office

Bonita Springs

24031 S Tamiami Trl Ste 101, Bonita Springs, FL 34134-7016
More about Becky Jaarda
I began visiting Bonita Springs back in 1992 when my parents retired here and quickly fell in love with the area. So much so that I moved here in 1997.
For over two decades I've had a front row seat watching the area's ever‐changing real estate inventory and drawing on expertise in market analysis and valuations that I now utilize to benefit and educate my affiliated agents. I enjoyed experience in property management prior to transitioning to general real estate brokerage in 2000. My longstanding presence in Southwest Florida as a seasoned luxury agent affords me an unmatched historical perspective of the unique trends and evolution of this very special market.
At Coldwell Banker Residential Real Estate, we combine the power of the world's most recognized real estate brand with talented, knowledgeable practitioners who have a passion for assisting people with their real estate needs. Management and staff are equally committed to helping our agents achieve their business goals. If you are an experienced REALTOR looking for a new home for your career or a brand new licensee just starting out, we would love to speak to you about your plans and how we can help you.
Education - Our associates have access to a variety of educational opportunities, including required legal and elective courses for CE credit, many at no cost to our agents. We are the Regional Training Center and our education staff has an ongoing calendar of available courses. No boring, "watching paint dry" real estate classes here! Our instructors possess a wealth of knowledge and an easy-going, entertaining style of presenting information.
Administrative Support - The Bonita Springs office has 2 full time staff members to support REALTORS with their administrative needs. They serve as transaction coordinators throughout the home sale process and are available for marketing assistance or additional services as required.
Marketing and Tech Tools – Coldwell Banker is a company that is always on the cutting edge of emerging trends and technologies in the industry. Our associates have access to a wealth of tools, including a CRM system, e-Marketing suite, digital listing presentations and much more.
In-Office Coaching – Branch leader Becky Jaarda offers in-office coaching on an individual or small group basis. We regularly get together to review the use of our tools, making sure that we are utilizing everything that's available to our agents to help them achieve their goals and grow their business.
Management – As a non-competing manager, Becky devotes her time to ensuring the success of every REALTOR. She is committed to helping each one develop a business plan and enjoys meeting with them to review and reassess their goals. Her top priority is helping our agents to achieve their dreams and improve their quality of life. The support of Becky and the office staff helps them free up their time to either seek new business or devote more time to their personal endeavors.
Office Culture – At Coldwell Banker Residential Real Estate, Bonita Springs, we have a great time! We are a hard working group of professionals that enjoys learning and celebrating our successes. Whether we are doing something out in the community, having a "Lunch and Learn" in the office, or hosting an event, we support each other. From experienced colleagues to rookies, we recognize and reward exceptional talent. We support multiple local causes including Harry Chapin Food Bank, Wounded Warriors and Our Mother's Home. To get an idea of what it's like to work with us, please follow us on Facebook.
We are always looking for talented people to join us! Please contact Becky for a confidential discussion about the future of your business and how we can help you. 239-273-4596
Testimonials:
"These past 6 months it has been a breath of fresh air having Becky as the Managing Broker. Becky is approachable, knowledgeable and someone who encourages/pushes for growth. I can reach out to Becky for something small or large and know that I will get a timely response/follow-up. Year over year my business is stronger than a year ago and, in some part, I owe Becky a Thank You for her contribution to that status."
Shawn Bright, Realtor, Coldwell Banker Bonita Springs
"I work with Coldwell Banker because they do all kinds of marketing which helps me sell my listings faster. As a listing agent, the marketing might of Coldwell Banker is impressive. My competition just can not compete with me in my marketplace due to their company's inability to pay for proper marketing."
Stephen Levin, Realtor, Coldwell Banker Bonita Springs
"After a long career with ERA Real Estate, a sister Realogy company, I decided it was time to up my game. I learned that Realogy was committed to their associates' success and was looking for more name recognition and relocation business. I got both when I moved my license to Coldwell Banker Residential Real Estate. Our corporately owned office provides tools that set us apart from the competition helping to win listings."
Marc Lobdell, Broker Associate, Coldwell Banker Bonita Springs