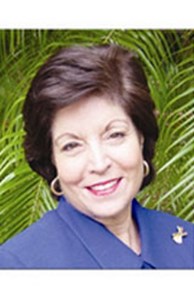 Sales Associate
Phone
Office

Coral Gables

4000 Ponce De Leon Blvd Ste 700, Coral Gables, FL 33146-1434
More about Jane Noppenberg
DEDICATED PROFESSIONAL
Dedication and service along with 32 years of experience makes the real estate transaction a pleasure when Jane is working for you. She puts the needs of her customers first. She is not satisfied until they are. No matter how long or how short the buying or selling process, Jane puts her enthusiasm into each and every situation. Maybe that is why so many of her customers become lifelong friends.
RELOCATION SPECIALIST!
New to the area? Interested in getting to know the various neighborhoods in Miami-Dade and Southwestern Broward? Jane has the knowledge and patience to help the relocating corporate client or individual become familiar with where they would like to settle down. From neighborhood tours to area cultural and recreational attractions, Jane will acquaint her customers with the whole package. Jane will not be comfortable unless her customers can make an educated decision as to where they and their family will be calling home.
RECORD OF SUCCESS
For over 32 years, Jane has produced record breaking results in the sales arena. Her most important award, however, is the ones she gets everytime she has another satisfied client - and that is often!
COMMUNITY INVOLVEMENT
From being active in The Villagers (promoting historic preservation) to cheering for her favorite team, the Miami Hurricanes, Jane is committed to the Miami community which she loves. Very active in the Coral Gables Chamber of Commerce, she was Chairman of the Professional Development Committee and recently chaired the Daimond Award for Excellence in Business. Vice President of the Women's Guild of the University of Miami and Life Member of the Miami Museum of Science and Space Transit Planetarium round out her current community activities. Jane and her husband John are long time residents of the area and enjoy all it has to offer.
SHE ACTUALLY CARES!
Over and over Jane's customers come away from their Real Estate experience with her with the realization that she actually cares about them and their well-being. It is obvious that she is in Real Estate for the long run, having served the South Florida area for over 30 years, but selling and getting on with the next is not her style. Caring about each individual customer is how Jane has continued to be a top Realtor for many years.
SHE KNOWS MIAMI-DADE AND BROWARD NEIGHBORHOODS
Differentiating her from most other Realtors, Jane has made it her business to be knowledgeable about many neighborhoods in the South Florida area. In the course of her 30+ years of Real Estate Service, Jane has studied first-hand most Miami-Dade and South Broward areas and will be helpful in analyzing which ones would be best for you. She does not steer people into one or two neighborhoods, but takes into consideration the needs of her customers and finds the right fit for them.
VILLAGE OF PINECREST
Growing up in Pinecrest, Jane and her family have lived here since the 1950's. Jane is a product of Pinecrest Elementary and Palmetto High School and so are her children. She and her husband have been active in the community since their marriage in 1966. This is one wonderful place to live!!!www.pinecrest.com
MASTER BORKER FORUM
Jane is a founding member of the prestigeous Master Broker Forum. This is an organization that is comprised of the leading Realtors in the Miami-Dade and Broward Areas. www.masterbrokersforum.com
REALTOR AFFILIATIONS
Member Realtor Association of Miami Dade County
Member Florida Association of Realtors
Member National Association of Realtors
Member Master Brokers Forum
Member Certified Residential Realtors
Member Graduate of the Realtor Institute
REFERENCES FURNISHED UPON REQUEST
Please don't hesitate to ask for references or call the office manager. Jane's fine reputation has enabled her to be tapped for membership into the elite Master Broker's Forum, a local real estate honorary and has consistently placed in the top 1% of all Realtors in the US.