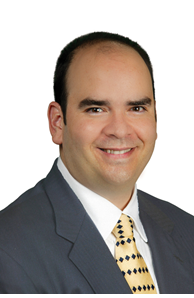 Branch Manager
Phone
Office

Kendall

8264 Mills Dr, Miami, FL 33183-4805
Connect with Albert
Languages other than English
Spanish
More about Albert Labrada
"I live by the Golden Rule: 'Do unto others as you would have them do unto you,' and it is this expression that drives my life's work. So count on me to be approachable, patient, transparent and fair, to have an open-door policy where I will actively listen to your needs and concerns, and to provide you with viable answers and solutions in your problem-solving."
Albert Labrada has an innate passion for helping others, and as the Managing Broker of Coldwell Banker Residential Real Estate's Kendall office at The Palms at Town & Country, his top priority is - and always shall be - the success of his agents. He strives to be instrumental and make a difference in their personal growth and professional development through consistent support, training, coaching and mentoring.
"I want to help my agents tap into their unique strengths and natural skill sets to build and grow your business. No two agents will find their path to success in the same way, but it will be my unwavering commitment to uncover what motivates and inspires each of them to achieve their best, whether they're newly licensed or a seasoned pro."
Born and raised in Miami, Florida, Albert is a graduate of the University of Miami with a bachelor in business administration. His real estate career spans over 12 years, the majority of that time with Coldwell Banker. Also, he brings over nine years of managerial experience from his work at the Administrative Office of the Court as well as the University of Miami. He prides himself on being fully bilingual, tech savvy, and an effective communicator.
"I am what some might call the lifelong learner: always reading and learning for the pursuit of knowledge. But what's important is what I do with that knowledge - and that's to share and teach - for there is no greater reward."
At Coldwell Banker Kendall, workshops are offered to enhance agent's skills. Social media is leveraged for added exposure of listings and to the strengthen the brand recognition of the office. Additionally, new concepts and technology are always being introduced to make agents more efficient and more profitable. Continuous learning, innovation, and improvement are at the forefront of their every initiative.
"When I think about the culture of our office, I would describe it as supportive, prosperous, and fun. We want to continue to build upon that legacy with great pride and commitment without ever sacrificing our highest standards."
Henry Ford once said, "Coming together is a beginning; keeping together is progress; working together is success."
Contact Albert to join our team and learn more about what makes Coldwell Banker unique, available resources from our award-winning education to the newest innovative technologies that give our agents a competitive advantage, and how we can help you build an exciting, rewarding, and profitable career in real estate.