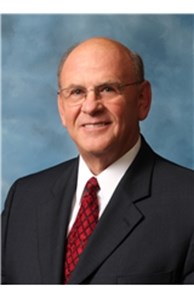 Realtor®
More about William Hughes
Services And Areas of Expertise Include:
Bill Hughes … "COMMITMENT TO EXCELLENCE"
"Deal with honesty and integrity with all people - make a difference in people's lives - deliver more than expected."
Looking for a reliable and honest full time agent dedicated to servicing your purchasing and selling real estate needs? Allow me to help you purchase your ideal home or market your existing property to sell in the least amount of time for the highest price and least inconvenience. Buying or selling a home is one of life's most important decisions. It can be fun and rewarding or full of stress and anxiety. Put my 30 years of professionally trained skills in sales, marketing, presentation and expert negotiations to work for you. Together we will make your next real estate transaction a memorable and satisfying experience. I work with you throughout the entire home search and negotiation process and assist in finalizing the details.
Affiliations
Member National Association of Realtors
Member of Orlando Regional Realtors Assoc.
Member Multiple Listing Service (MLS)
Designations / Certifications
SSRS - Short Sales Resolution Specialist
BPOR - Broker Price Opinion
REOS - Real Estate Owned Specialist
eMarketing Advantage
eMarketing Advantage and Online Property Promotion: We are part of the largest full-service residential real estate brokerage in the U.S. and on the Internet. No other real estate brokerage company in Florida can match the strength of Coldwell Banker's internet marketing. The combined worldwide audience for over 350+ websites on which Coldwell Banker listings are marketed exceed 12 million visitors every day
About Coldwell Banker
As the nation's oldest real estate company we have helped make the dream of home ownership a reality for millions of families through our network of more than 92,000 agents in over 3,600 offices in 50 countries and territories. Coldwell Banker Residential Real Estate offers one-stop-shopping with mortgage, title, home warranty, rental and property management, relocation and insurance services.