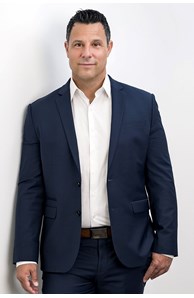 REALTOR®
Phone

Market Punta GordaOffice

200 W Marion Ave, Punta Gorda, FL 33950-4415
A Passion That'll Move You.
More about Tony Martin
As a passionate and responsive Real Estate Agent serving in Florida, I will guide you in one of your most important financial decisions while making the experience rewarding, memorable, and stress-free. My previous experience as a multi-award-winning top producer in sales, having received special recognition for my outstanding customer service both nationally and regionally. I leverage my sales experience in negotiating nothing less than the best deals for my buyers and making top-dollar sales for my sellers in the least amount of time possible.
A native of Michigan with the work ethic of a titan, I moved to Florida in 2014 and finally settled in Babcock Ranch Florida, the first solar-powered town in the United States. As such, I have developed a vast network and extensive knowledge of the local property market, allowing me to curate a seamless real estate experience for all my clients. My hard work and integrity in representing my client's best interests have inspired their trust and confidence in me.
Armed with an educational background in Business Administration, I am committed to listening to my client's needs and utilizing my keen leadership and communication skills to ensure a successful transaction. My previous experiences in mortgage and retail banking have equipped me with substantial credit knowledge that allows me to offer innovative solutions to my client's financing needs. Additionally, I am a proven champion of client retention due to my targeted marketing solutions.
Outside of real estate, I am an active member of the Florida community who enjoys participating in community events, exploring the outdoors, and appreciating everything Florida offers. If you need an enthusiastic, reliable, and hard-working Real Estate Agent who will go above and beyond to make your real estate dreams a reality, look no further!