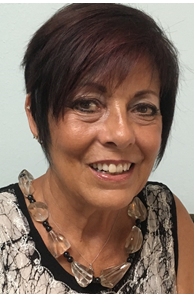 Associate Broker
Phone
Office

Punta Gorda

200 W Marion Ave, Punta Gorda, FL 33950-4415
My business profile is simple...caring about the people who ask for my help, striving to create a stress-free, pleasant & rewarding real estate experience for all.
More about Regina Sedar
I am highly motivated to continue assisting customers as I have for the past 6 years.
My passion, enthusiasm and experience shines through to my customers. I really enjoy helping them with their real estate needs. My Father was a World War II Veteran awarded the Silver Star and the Purple Heart, so this makes it more rewarding helping Veterans.
We would like to highly recommend Regina Sedar as a truly wonderful real state agent. She has all the excellent qualities that are needed for a stress free experience. Regina is an active listener. She took her time understanding our buying, selling and renting needs and catered her plans accordingly. As an individual, Regina is polite, inquisitive and proactive. She has always been a great support during negotiations and accomplishes everything with a noticeable degree of integrity and competency that is difficult to find these days.
We have and will continue to recommend Regina with the highest regard to others for all real estate ventures.
Sincerely,
Dr. and Mrs. Paul Chupka
Dear Regina,
I would like to take this opportunity to personally thank you for your outstanding work in helping us find a new home in Florida.
I worked with many Realtors while I was an Assessor in Connecticut and I consider you to be one of he best I have had the pleasure to work with. You are courteous, responsible and have a thorough knowledge of real estate market which proved to be extremely helpful in finding the right home especially since we did not know the area or anyone living here.
We were a member of USAA and reached out to them for help and they gladly recommended you for which we will be forever grateful.
I would recommend you to anyone interested in purchasing or selling any and all Real Estate.
Patricia A. Stevenson
Joseph W. D'Amicol
Punta Gorda, FL. 33980
When my wife and I decided to retire and move to Florida we used the USAA Real Estate Rewards Network. We were very fortunate to get Regina Sedar of Coldwell Banker Residential in Punta Gorda as our agent. This was going to be our tenth, and hopefully final, home purchase so getting it right was paramount.
Ms. Sedar listened to our long list of requirements as if she was buying the home for herself. She never once tried to shoehorn us into a home because of price or location or because itrsquo;s the best we were going to get in our price range.
After an extensive search that covered many communities in the region we found the perfect home for us in the perfect old Florida village without sacrificing anything. While it wasnrsquo;t in Punta Gorda it turned out to be a better fit for us and we couldnrsquo;t be happier here in paradise.
We have used as many as maybe 14 Realtors in our life and Regina is the best we have ever had. Her professionalism is truly refreshing and I cannot recommend her highly enough.
Dayton P. Strickland
Englewood, Florida
It has been over three years since my husband and I purchased our home in Florida - something that could not have been accomplished without the help from Regina Sedar. I had a few other people in real estate that helped, plus a friend in an agency that was a friend of my husband. All roads led BACK to Regina and her efforts. While visiting homes with other brokers, I always remember the unnecessary chatter that continued to take place ndash; as if noise seemed to support the visuals of what was in front of me.
After a severe snow storm and being prisoners in our own home we decided to sell our home of 30 years in Laingsburg Michigan and look for a home in Florida. My husband continued to work while I made two trips to Florida to search. Regina was the one that answered emails, and phone calls and returned helpful information. Once she and I got to the stage of making an offer ndash; this without my husband even seeing properties ndash; I never had the feeling of ldquo;something going on without me knowingrdquo;. Regina had a complete knowledge of the houses, the areas, the lock boxes always seemed to be working and she was always on top of all the details from small to smaller. While I was certain many times she was interested in suggesting ndash; she always let me make up my own mind, unless it was something that would have caused consequences.
Strange ndash; even from the first visit to our house to when we bought it ndash; Regina and I always had the feeling that this house was ldquo;oursrdquo;. Even now when we have visitors from the north, the comments are always the same ndash; how did we find something so perfect for us. Regina came with a complete knowledge of the Florida Environment and all things related ndash; pools, no basements, no attics, one floor, split floor plan, etc.
We are happier than we could have imagined with our house and we are grateful to Regina beyond words. Irsquo;m happy to say that she will be looking for a property for my daughter and her husband in the near future, and I know I can trust Regina and all her business acumen and knowledge.
Maureen Dalton,
Punta Gorda, Florida 33980