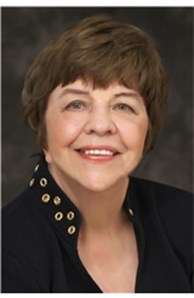 Sales Associate
Connect with Lynn
Awards

International Diamond Society
Designations
Certified Real Estate Brokerage Manager (CRB), Graduate Realtor Institute (GRI), Professional Association (PA)
More about Lynn Robbins
Luxury Homes Marketing Expertise:

Lynn is active in Sarasota's civic and cultural life, serving on the advisory boards and committees of many local organizations. * Van Wezel Performing Arts Center * The Sarasota Ballet * Ringling School of Art * Sarasota Chamber of Commerce * Boys and Girls Clubs of Sarasota Foundation Board * WEDU Public Television Board * City Redevelopment Advisory Board. Lynn has also hosted two television programs on WWSB-TV Channel 40, providing up-to-the-minute information on community news and real estate trends.
Selling the Community She Knows Best:

Megabroker Lynn Robbins, an expert on Sarasota property, has been a real estate professional for over 40 years, a career choice that is a natural extension of her knowledge of the community and its people, her fascination with the area's history and her commitment to its future.Through an extensive marketing program that reaches clients worldwide, Lynn has time and again sold many of the most beautiful and elegant homes in Sarasota and on the Keys.
Sarasota's Luxury Home Specialist:

A Certified Luxury Homes Specialist, who understands the nuances of the luxury home market, Lynn's listings can be seen in the exclusive publications duPont Registry and Signature Homes & Estates magazines.

Professional Honors:
• Top ½ percent Coldwell Banker agents worldwide
• Certified Residential Broker
• Graduate Realtor Institute.
• International Marketing Specialist
• Previews Property Specialist
• In 1975, started General Realty, a leading real estate company in the area, selling to a nationally-known company in 1987
• Featured in HGTV's "House Hunters" in 2009

Community Involvement:
• Board member, Designing Women Boutique; Chairman of the Estate Division
• Foundation Board Member, Boys and Girls Clubs of Sarasota County
• Member of the Citizen's Advisory Board for WEDU
• Member of the Community Redevelopment Advisory Board
• Chair of "Engage Sarasota" a Community Orientation Program for the Chamber of Commerce
• Chairman of the Van Wezel Performing Arts Advisory Board
• Past board member of the Sarasota Ballet, the Ringling School of Art and Design as well as the Committee of 100
• Past Host of an informative TV news program "Inside Sarasota County" on the local ABC channel for three years
• Founding member of the Sarasota Economic Development Council (EDC)

Professional Biography:
A true real estate professional and veteran of over 40-years, Lynn Robbins' expertise in residential and commercial real estate consistently earns her top honors in Sarasota and recognition throughout the country. From development projects in Sarasota and Manatee Counties, to strategic marketing of new residential developments, her integrity and professionalism are unsurpassed. Lynn's professional philosophy and exemplary client service result in continual client referral, along with the respect of the Sarasota real estate community.
Equally impressive is Lynn's commitment to the well being and successful future of the Sarasota community. Her involvement in local government, civic and cultural organizations include the Community Redevelopment Advisory Board, the Van Wezel Performing Arts Hall, the Sarasota Ballet and the Ringling School of Art and Design. Since 1986, Lynn has organized a "Mini-Sarasota" Leadership program for the Chamber of Commerce. It is designed for new business leaders to participate and meet the leaders of our community through a series of interesting lunches with such groups as the local judges, key members of the arts groups, county manager and city auditor, presenters from the colleges and universities and several others. It has been one of the most successful activities at the Chamber.

Personal Commitment:

"The best testament to quality service is the fact that many of my valued clients have not only referred their family and friends to me, but have also become very close friends." Lynn Robbins
Testimonials:

We were introduced to Lynn through a friend (who was also introduced to her by another friend). Lynn is extremely knowledgeable and passionate when it comes to Sarasota – after discussing with her what we thought we were looking for in a second home, she began sending us listings with a little commentary about each area. The first day with Lynn was spent driving around to the different areas which was great because we were able to make educated decisions as to what was really important for us to have. Lynn is very attentive and truly listens to the client in a non aggressive way – she wants to sell you a home you will love and not just a home. We would highly recommend her to anyone and consider her a new friend in Sarasota. Denise and Michael

I wanted to say a big thank you on behalf of Felicity and myself for the outstanding job you did in managing our purchase and closing last Friday of Hillview Drive. Throughout the entire process, which included the false start on the first lot, you demonstrated your true professionalism at every twist and turn. Your attention to every detail, your quick follow-up and your ever present "can do" positive outlook made this a very easy and seamless transaction. That is often not the case in real estate deals but I'm sure it was due in large part to your wealth of experience and that "positive" attitude and your knowledge of "everything Sarasota". We look forward to our continued relationship and friendship with you. Best regards, Bob and Felicity

Dear Lynn,
Just a note to say what a wonderful person you are. It is clear even after all the wars you still have a passion for people and real estate. Marenda and I are so fortunate to have been able to have you as an advisor. We enjoyed meeting Mike and our dinner with you all. Here's to many more. Sincerely, Todd and Marenda