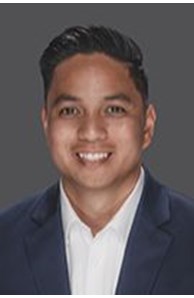 REALTOR-ASSOCIATE®
Lic#: RS-77098
Email

john.quindara@cbpacific.com

Phone
Office

Leeward

98-211 Pali Momi Unit 411, Aiea, HI 96701
More about John Quindara
John brings a unique perspective to his real estate practice that allows him to help his clients achieve their goal of home ownership. Along with an enthusiasm and passion to help his clients navigate the home ownership process, as a current Doctor of Architecture candidate at the University of Hawai'i at Manoa, John is able to use his architecture design background to help his clients find the perfect home. Through his effective communication skills and relatability, he has proven to be an essential asset and joy to work with.
Being born and raised on the beautiful island of Oahu, has given John an immense appreciation and love for the place we call Hawaii. With real estate, he has now turned that love and appreciation into a professional expertise that only a true local can offer.
He graduated from St. Louis School and then pursued a Bachelor of Science degree from Brigham Young University-Hawaii. Majoring in 'Psychology' with a minor in 'Conflict Resolution', John was a very active member of the campus community. His current academic research in the Doctor of Architecture program at UH-Manoa with an emphasis on affordable housing in Hawai'i, John can relate to the struggles that Hawai'i residents face and is trying to explore alternative options to help with that. Experiences like these has help John develop great leadership, organizational, and communication skills that has helped in his day to day business.
Throughout school and upon graduation, John worked at the world renowned Polynesian Cultural Center as a Performer and Promoter. As a part of the very esteemed Promotional Team, he had the privilege of traveling the world, dancing and promoting the center and Hawaii as a whole to thousands of people around the World. There he gained the skill and experience of marketing and advertising.
In his free time, you can find him mostly at the beach enjoying a good surf or simply enjoying the sun and the water. He is also a sports enthusiast that has developed a deep love for all sports, especially basketball. He also enjoys spending time as a volunteer, currently volunteering as a 'Wish Granter' for the Make a Wish foundation, helping children with terminal illnesses and their families fulfill lifetime dreams. He has also spent time as a volunteer with organizations like Habitat for Humanity, LDS Helping Hands, and Kahuku Hospital. From 2009-2011, John served a volunteer church mission in Brazil where he lived, learned the language, and served the people through humanitarian aid, and spiritual and family counsel.
What drives him and his business is more than the money personal accolades, but as John puts it "I don't sell real estate, I want to build lasting relationships and help families reach their goals."
Testimonials
"John got us in the property earlier than expected. He went above and beyond to help us purchase the property. He listened to our wants. He was very polite and he understood our situation. He did everything that was exceptional. We appreciated the hard work he did for my family and I. I would recommend him to my family and friends." - Marlene M.