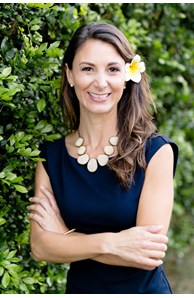 Realtor®
Lic#: RB-22723
Email

danielle.scherman@cbpacific.com

Phone
Office

Windward

970 N Kalaheo Ave Ste C-215, Kailua, HI 96734
Awards

International Diamond Society
Designations
Certified Negotiation Expert (CNE), Realtor (R)
More about Danielle Scherman
Summary


Who better to match you with your dream home than a true Hawaii girl, someone knowledgeable and passionate about our islands, who understands people and works hard to make sure her clients are happy! She's been around real estate her entire life as her family is deeply rooted in Hawaii's commercial and real estate investing world. After spending time on the mainland and also watching real estate flourish in her own hometown, she decided to merge her passion for helping people with her love for Hawaii.
Born and raised in Kailua, on the windward side of Oahu, Danielle Scherman left her sleepy beach town after college to set out to make it big in the city that never sleeps. After spending eight years gaining valuable work experience and launching four companies in New York City, Washington D.C., and Santa Monica, she returned to her island home in 2011 with new skills and big ambitions.
Her career path has been diverse, from Public Relations and Event Management to Non-profit Management and Entrepreneurship. She is the Founder of Social Wahines, a 500-person social and business network for women in Hawaii as well as Event Headquarters, a 4,000 person online community for New York City's bustling event industry.
With a burning desire to help others, Danielle gives back to her community as a supporter of several charities. Out of a personal passion to help cancer survivors, she produces the annual 10,000 person "Cool Kailua Nights Block Party and Health Awareness Fair," which raises more than $30,000 annually for the Boys & Girls Club at Castle Medical Centers Chemotherapy Clinic. As a true entrepreneur at heart and with a passionate to fuel Hawaii's startup community, she brought Startup Weekend to Honolulu. Startup Weekend currently takes place in 67 countries and is a 54-hour event where startup enthusiasts come together to share ideas, form teams, build products, launch startups and present to a panel of investors. Her goal is to make a contribution to Hawaii by producing two events per year for 5 years, resulting in more than 200 Startups launching locally.
Fascinated by Hawaii's rapidly evolving real estate market, Danielle feels that Hawaii has a lot of exciting opportunities. She exudes positivity and passion for her work. Those who've worked with her, appreciate her attentiveness, intuitiveness and efficiency. Her friendly, outgoing personality makes working with her fun, while her professionalism and "honesty and diligence" help inspire the right decisions.
She is a graduate of the University of Hawaii (B.A. Sociology) and George Washington University (Event Management Certification). When not scouring Hawaii in search of the perfect home or the next sunny day, Danielle loves traveling and learning about different cultures. She also loves to run, sail, hike and spend time with family and friends.