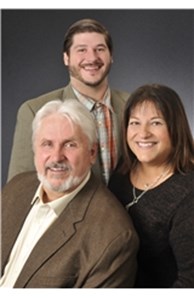 Email

brokers@ateam.properties

Phone
Office

Northwest

792 E Rand Rd, Arlington Heights, IL 60004-4006
"Treating you like Family"
Connect with the Team
Languages other than English
Italian, German, Polish
More about the Team
Business Philosophy
Audrey and Fred and their team have always been known for their exceptional sales and active community involvement. As long time residents of the northwest suburbs, they recognized the need for honest, hard-working real estate agents who you can trust. They work tirelessly to ensure that each and every one of their clients receive all of the energy, enthusiasm, and real estate expertise they have to offer. As a result, they have been recognized as one of the most highly recommended REALTOR teams in Metropolitan Chicago Area. When choosing your Realtor, here are some things to consider.
First, you'll want an agent ready and able to make a full-time commitment to you. We can and will do that.
Second, you'll want an agent with the experience needed to know the local neighborhoods, schools, market conditions, ordinances, etc. With our years of experience in the metro market - we have the expertise and track record of success you need.
Third, you'll want an agent who embraces the convenience of technology without losing the personal touch. You'll love the resources available on our website and the e-mail alerts that we can send, but these will never replace personal time spent with you, serving as your personal guide through this exciting process.
Let's get together and talk about your home buying and/or selling plans. Call Audrey at (847-903-4650) or Fred at (847-903-4657) or send an e-mail to (info@a-team-homes.com), we'll set-up a time that is convenient for you to meet.
P.S. If you're not ready to meet in person, please tour through our website. We are sure you'll find the resources here useful and helpful. Enjoy!
Communities We Serve
We Serve the Metropolitan Chicago Area
Testimonials
"Audrey and Fred were absolutely fantastic! As first time home buyers, my wife and I were looking for a realtor team who could educate us and guide us through the complicated process of buying a home without trying to sell us on the most expensive home out there. Audrey and Fred were more than happy to guide us through each step and answer our zillions of questions, while keeping our various preferences and budget in mind all along the way. Their recommendations for a lawyer and a loan officer were amazing. It's clear that Audrey and Fred are extremely experienced realtors and everybody they come in contact with loves working with them. We can't recommend them enough!"
- Tim
Audrey was great to work with! She was patient with us and very flexible, and is extremely knowledgeable about real estate and the areas we were looking in. Audrey had our best interests in mind as she showed us each property. She's very personable and gets to know you as an individual, not just a client. We'd highly recommend Audrey!
-Amanda
"Audrey is a true professional! She and her "A" team partner and husband Fred, will be my Realtors for life! Audrey has been through the ups and downs of the market with me on many occasions and has put forth a tremendous effort to ensure all of my Real Estate transactions were a success! Both Audrey and Fred know how to get it done and can be completely trusted in providing sound advice and timely follow up regarding every element of buying and selling a home. In today's market, that is NO easy feat! Many thanks to Audrey and Fred for their continued support...not only are they great Realtors, but they are just fantastic people!"
Service Category: Real Estate Agent
Year first hired: 1999 (hired more than once)
Top Qualities: Great Results, Personable, High Integrity
-Kim