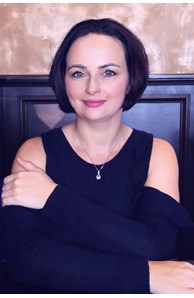 Broker
Email

giedre.basov@cbexchange.com

Phone
Office

Naperville

1212 S Naper Blvd Ste 122, Naperville, IL 60540
Buyers Agent, Sellers Agent, Renters Agent and Investors too! You deserve an agent who's focus is the best interest of the client!
Connect with Giedre
Languages other than English
Lithuanian, Russian
More about Giedre Basov
Business Philosophy
High Quality Customer Service
Giedre Basov approaches her life and career with the philosophy that every client deserves "Top of the line" customer service regardless of their financial status. That is her personal guarantee to all of her customers and clients. From low income individuals and families - to individuals and families making over six figures, Giedre Basov will strive to exceed her clients' expectations.
Giedre's motto is:
"Top of the line customer service is the only way to treat my clients, as every client's satisfaction of having worked with me is worth a million bucks".
Education and Designations:
Giedre Basov is a licensed Real Estate Broker in the State of Illinois and is affiliated with Coldwell Banker Residential Brokerage in Naperville, IL office.
Member of National Association of Realtors - (NAR)
Member of Illinois Association of Realtors - (IAR)
Member of Multiple Listing Service - (MLS)
Member of Mainstreet Organization of Realtors
Career Diploma in Interior Design
A.A.S in Paralegal Studies
Areas of Expertise
Full Time Real Estate Professional Service
Giedre's primary focus is on professional representation with exceptional service for everyone she works with. In a trustworthy, honest, and reliable manner she represents buyers, sellers, investors, and renters. Her expertise is in DuPage, Will, and Southwest parts of Cook counties, but she will work with clients from Kane, Kendal, DeKalb and other counties to meet their Real Estate needs.
Giedre's lack of expertise in the industry is backed by her passion, determination, and ambition to help her clients to move to the next stage of their lives, be it first time home buyers, sellers, investors, or renters, with the highest level of service. To meet her clients Real Estate needs, she will go the extra mile, spend any amount of time, and will go out of her way to make sure her clients are 100% satisfied!
Giedre Basov is backed by an organization that offers a large amount of support, collaboration and tools to reach her clients goal. If she doesn't know the answer she will find it. "I want my clients to know they have me and a team of trained professionals supporting the biggest purchase of their life".
Giedre Basov has a vision. Her talent for seeing the best use of space that would work for different individuals goes hand in hand with her Real Estate career. Her hobbies and interests include the study and watch of trends in real estate, interior design, new construction, luxury properties, and home remodeling and renovation. By listening and understanding her clients likes, needs, and expectations Giedre will assist in preparing your house for sale or show buyer the potential a property has.
Giedre Basov is dedicated to making the entire experience of Real Estate transaction a positive one. "My clients expect and deserve the best marketing, the highest level of service, and the best support. They shouldn't settle for anything less than the best in all of their dealings".
Free CMA
Free MLS listings emailed to you!
Personal Background
Giedre draws her strength from strong family ties and her ambition to be a strong role model for her 3 children. "I'm determined to prove to them that when you set your mind to what you are passionate about, the sky is the limit" she says.
Giedre Basov has a daily desire to learn more about the industry which contributes to successfully serving her clients in the best possible way.
For Giedre life is about having a positive attitude and enjoying every walking moment to the fullest. She loves her career in the Real Estate industry and she looks forward to every single day.
You should choose Giedre as your Realtor because:
As a local expert with national connections Giedre Basov can help you sell, buy, rent, rent-to-own, or invest in residential single-family and multi unit homes, condominiums, town-homes, REO (bank owned) and short sale, foreclosed, or auctioned properties.
Whatever your Real Estate needs are, Giedre will be there every step of the way with an emphasis on YOUR best interest and 100% satisfacation.
"My positive attitude, high integrity, reliability, and drive to help others will give you the results you are looking for. Lets work together - to meet your Real Estate needs".