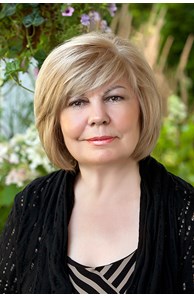 Broker
Email

tina.paras@cbexchange.com

Phone
Office

Northbrook

1925 Cherry Ln, Northbrook, IL 60062-3636
Connect with Tina
Awards

International Sterling Society
Designations
Short Sale and Foreclosure (SFR)
Languages other than English
Greek
More about Tina Paras
Tina Paras: Client-First Philosophy

Tina Paras a Real Estate Broker at Coldwell Banker Residential Brokerage found her passion for Real Estate over 30+ years ago. Tinarsquo;s philosophy is ldquo;Client - Firstrdquo; and that entails her providing the best service, keeping herself accessible, being a good listener as well as a good communicator, and responding quickly to her clientsrsquo; needs. This "Client - First" philosophy has always been her approach and it requires her to continually improve her skills and ways of doing business. Tinarsquo;s areas of expertise include Chicago, North, Northwest Suburbs, North Shore and DuPage Suburbs. Tinarsquo;s love for Real Estate translated in happy long-term clients and high referral rates.

Serving Sellers and Buyers

There are many qualities and skills that go into being an excellent Real Estate professional - integrity, in-depth community and market knowledge, marketing savviness, effective negotiation skills and a high-quality professional network, all of which are the hallmarks of how Tina became a success story in the industry.

In addition, when serving her Sellersrsquo; and Buyersrsquo; needs, she has found that the latest technology, digital and print tools backed by Coldwell Banker Residential Brokerage are enabling her to do an outstanding job of promoting listings and capturing the right audience, or helping Buyers find their perfect home based on the Market and Neighborhood Trends, thus, matching them with a home that fits their lifestyle.

Get to know Tina personally

Tina is a philanthropist and offers her support to those who are in need. In her free time, Tina Paras enjoys playing tennis, reading, or spending time with her family and children.

What Client Say:
"Tina is not only an amazing realtor, but an amazing person. What separates her from the rest and has kept her in the real estate business so long is that she REALLY cares for each and every client and will treat you like a member of her family. She is dedicated, trustworthy and business savvy. Without her, my family would not have the house we live in today. Tina will never try to to sell you something - she wants to find you the property that is right for you and that will maintain its resale value. My family and I cannot thank her enough for the level of personalized service and hard work that she put in to help us find our dream home. I recommend Tina to everyone I know, and have gained a friend in her."
-Joy A., Arlington Heights, IL
"I am pleased to offer this testimonial for Tina. I used Tina to sell my property, after two realtors that failed to sell. The property was sold in a few months. We are really happy with her service. She is not only knowledgeable and diligent, but also smart and professional. Most of all, she really cares about each of her clients. Because I moved out of state, I had a lot of worries about the sale of our property. She had put my mind at ease. I would definitely recommend Tina for buying and selling properties."
-Mei H., Scientist
"I am pleased to offer this recommendation for Tina Paras. I have worked with her several times, from the purchase of my first home to the most recent sales of my home and my mother's home as I relocated out of state and have always found Tina to be knowledgeable, diligent and honest. A home buyer or seller is well served by selecting Tina as their real estate advisor."
Neil B., CPA


"I would like to take this opportunity to recommend Tina Paras as a realtor of CHOICE for any one contemplating buying or selling property in this market. I have known Tina and her family since the late nineties and Tina has sold a couple properties for me, my relatives and friends. Even though now I live out of state, Tina is still engaged by me for 2 additional properties. She is a hard worker and treats you like family."
Steven D., Special Agent (Ret)
"Tina Paras is an outstanding realtor, I have used her to buy and sell many commercial and residential properties for myself and my family, I have never been disappointed. Tina is the most efficient, personalized realtor I have ever come across. Tina will handle a deal as if its her own! For me that is priceless! I recently challenged Tina to find a home for me my wife, three kids and in-laws, not only did she find us a home in record time, she found us our dream home at a ridiculously low price. Tina first listens to your needs, then she produces amazing results. I recommend Tina for any kind of real estate deal, she is a true professional. Thank You Tina!! and God Bless You!!"
Peter K., Village Fresh Market INC.
"Tina Paras was extremely helpful and responsive. Her advice was useful and provided encouragement all the time. Tina was constantly on the lookout to find us a perfect property to fit our needs. There is no negative about Tina. She is a truly professional, respectful, prompt, and knowledgeable Real Estate Agent. We enjoyed working with her from day one. I am highly recommend her to any buyers and to any seller because she will guide you all the way, even help you to close the transaction. She can save you money and avoid headache."
Andrew C.