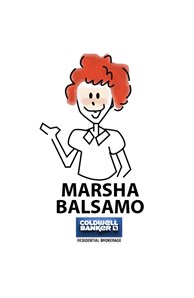 Broker
Email

marshabalsamo@msn.com

Phone
Office

Winnetka

568 Lincoln Ave, Winnetka, IL 60093-2353
More about Marsha Balsamo
Serving All Of Your Real Estate Needs

Marsha Balsamo- Your North Shore Real Estate Expert
Marsha Balsamo is a well-known and respected Real Estate Broker with more than 25 years of experience in the North Shore real estate market, including Northfield, Winnetka, Kenilworth, Wilmette, Glencoe, Glenview and Northbrook. Marsha is a consistent top producer and listing agent in the Coldwell Banker Winnetka office, the #1 office on the North Shore.
As a long-time Northfield resident and Real Estate professional, Marsha is known for her outstanding personality, her dedication to her clients, her extensive knowledge of the North Shore market, her exemplary negotiating skills, and her ability to "get the job done". But beyond that, Marsha's philosophy is that "It's not just about Real Estate…it's about your home!"
Marsha's Perspective on Buying a Home
Marsha's extensive real estate experience on the North Shore ensures that you are in the best hands. Her broad knowledge of both renovations and new construction is invaluable in guiding you to make the right decision. Marsha understands every aspect of home construction and has a wide network of experts in all areas. This expertise is crucial to a successful negotiation.
Marsha "Gets it Sold"
Marsha's selling record speaks for itself. With numerous closed transactions over the years, sellers have come back to her again and again. She is a consistently top listing agent, using creative marketing tools and advanced technology strategies, including Internet Marketing and Rapid Response Technology. Marsha has evolved with the real estate market to embrace all the most recent advances, including Social Media and Reporting Tools. Her honest and forthright attitude, with a dose of good humor, is her signature trademark and is integral to the negotiating process!
About Marsha
Marsha has been an active member and resident of the community of Northfield for 30 years. She currently serves on the Northfield caucus. In addition, she has headed various major fundraisers and held offices for various community organizations over the years. Marsha resides in Northfield with her husband, Phil, and two terriers, Luna and Star. Her daughter, Leanne now resides in Pasadena, California.
Marsha's Awards and Designations
• Illinois Licensed Real Estate Broker
• Member of North Shore Board of Realtors
• Member of National Association of Realtors
• Member of Coldwell Banker's President's Club
• Member International President's Circle
• Ranked in Top 5% of NRT out of 45,000 Agents Nationwide