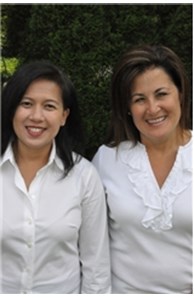 Email

jijiandjanet@teamcoldwellbanker.com

Phone
Office

Winnetka

568 Lincoln Ave, Winnetka, IL 60093-2353
We Sell North Shore Homes
More about the Team
Caponi & Karabas Team Advantage
Jiji and Janet are top Coldwell Banker Residential realtors in Winnetka, IL . They have been involved in the Real Estate markets for almost 20 years combined as a Broker associate, commercial agent, mortgage broker and property manager. Working out of the Winnetka South office, they currently serve clients throughout the entire North Shore – Winnetka, Wilmette, Kenilworth, Glencoe, Highland Park , Glenview and Evanston. Their experience in real estate includes lending, appraisals, property management and residential/commercial sales. Living in the North Shore for the past 12 years, they are experts in the school systems, neighborhoods, amenities and can assist you in finding your next home or selling your current home. They have been dedicated to providing clients with up-to-date real estate information they need in order to make well informed decisions. Their business has continually grown thanks to the unprecedented number of referrals. They are passionate about the client service experience and puts their clients at ease throughout the entire buying or selling process.

Our strong alliance offers our clients the following team advantages:
SERVICE
• Unparalleled service to all buyers and sellers
• Unmatched enthusiasm, professionalism, knowledge and commitment
• Client Care Specialists – 24/7 communication and availability
KNOWLEDGE
• Nearly 20 years of combined real estate experience
• North Shore/Winnetka residents – Neighborhood, School, and Community experts
• Expert market positioning, pricing and negotiation
MARKETING
• Unrivaled networking channels – local and national
• Accompanied showings – key to share local neighborhood knowledge
• Robust advertising and marketing strategies to reach target demographics

Please don't hesitate to contact us if we can be of any assistance, or use our website, www.wesellnorthshorehomes, for additional online tools and information.

About Jiji Caponi
Personal Background
Jiji lived in Chicago's Printer's Row prior to moving to the North Shore where she has been a resident for the past 8 years. She currently lives in Winnetka with her husband of 19 years and their two sons (ages 11 and 6). She loves to travel, cook, play tennis and cheer her kids on as they play baseball, hockey and basketball.
She and her husband are active volunteers in several school and community organizations. Jiji currently serves as Co-President of the Winnetka Public Schools Foundation and is a member of the Winnetka Chamber of Commerce. She has also been involved in the Greeley School PTO and Winnetka Public School Nursery Board of Directors. Her husband serves as a board member of the Kenilworth Winnetka Baseball Association (KWBA). Her personal knowledge and experience with the Winnetka schools, park district and other community organizations has proven to be invaluable to her clients.
Commitment
Jiji's priority has always been to offer her clients the highest level of service, integrity and market knowledge. Thorough preparation and organization, strategic marketing, skilled negotiating, and a strong work ethic are the cornerstones of her work style. Before putting a home on the market, she works with her sellers to optimize the presentation of their home, identify their target market, develop a strategic marketing plan and analytically assess market value. Once listed, she offers a comprehensive mix of high quality print and web based advertising, accompanies showings and communicates regularly with her clients. As a committed realtor, homeowner, mother, and active volunteer in the North Shore community, Jiji can help you sell your home or find the right home for your family.
Education and Affiliations
• Indiana University, B.S. Business
• North Shore Barrington Association of Realtors (NSBAR)
• Illinois Association of Realtors (IAR)
• National Association of Realtors (NAR)

About Janet Karabas
Personal Background
Janet lived for many years in Chicago's Gold Coast prior to moving to the North Shore where she has been a resident for the past 12 years. She currently lives in Winnetka with her husband of 21 years and their three children (ages 14, 11 and 7).
Janet and her family are active in many of the park district and community programs in both Wilmette and Winnetka including gymnastics, tennis, dance, baseball and basketball. She loves to walk the lakefront, go to the theatre and enjoys cooking and entertaining with friends and family.
She is an active volunteer on numerous committees at her children's Winnetka Schools. Currently, she serves on the Board of the Winnetka Public Schools Foundation and Co-chairman of the Family Events Committee for the Greeley School PTO. Her personal knowledge and experience with the Winnetka schools – Greeley, Skokie and Washburne as well as Winnetka Park District and community events on the North Shore has proven to be invaluable to her clients.
Commitment
Janet is devoted to her work and holds personal growth and self improvement as being paramount. This gives Janet a fresh, open perspective of herself as well as of her clients. Her clients describe her as honest, dedicated, determined, hard working, motivated, efficient, and extremely attentive to every detail. Having embraced "technology" she employs the latest tools to keep her on top of a constantly evolving real estate market. Janet feels that every real estate transaction is a unique learning experience and recognizes that it is the single most important purchase or sale that her clients will be a part of. Her comprehensive knowledge of the current market conditions and her excellent negotiation skills put her clients at a distinct advantage. Her vast experience has exposed her to the various difficulties that can arise during the process and her proactive approach anticipates and eliminates the common problems that can sometimes delay the closing.