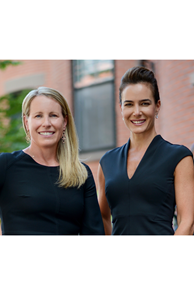 Email

SarkisTroyerTeam@nemoves.com

Phone
Office
More about the Team
Melinda and Suzanne have been selling Boston real estate with a commitment to excellence for over 18 years. The Sarkis | Troyer Team area of expertise includes, but is not limited to, the marketing and selling of luxury homes and condominiums in The Back Bay, Beacon Hill, South End, Seaport and the South Shore – specializing in Hingham.
With a steadfast dedication to evaluating each client's unique needs and finding them the ideal property to call home, The Sarkis | Troyer Team possesses a natural repertoire of dynamic qualities that set them apart and enable them to successfully procure the goals of the discriminating buyers and sellers they represent.
Their unrelenting work ethic, loyalty, and integrity are among the many reasons Melinda D. Sarkis & Suzanne R. Troyer are so well respected not only among their clients, but also their colleagues.
Testimonials


Melinda and Suzanne were an invaluable asset in the purchase of our Boston home. They work seamlessly as a team, offering the perfect blend of proactive expertise with on-the-ground savvy, which was critical as the market in the city is highly competitive and fast moving. When we were ready to purchase, they moved quickly and efficiently, always advocating on our behalf with keen negotiating skills and a professional demeanor . Our experience was outstanding, and we will enthusiastically work with them on our future real estate ventures!
--Rachele & John, Charlestown
"We are extremely grateful to Melinda for her help when buying our new home. As first time home buyers, her advice and guidance throughout the process was invaluable. From the start, she took the time to really understand what we were looking for and was there for us and with us every step of the way; helping us navigate the world of real estate and, ultimately, closing on our dream home. Her knowledge of the market and her commitment to her clients is a definite differentiator. We could not be happier with our experience and would highly recommend her to others!"
--Andrei & Elena, South End
"Suzanne made our transition to Massachusetts completely stress free. She began communicating with us before we even arrived. She gave us knowledgeable information regarding daily life, not only real estate guidance. She helped us with schools, accountants, doctors, dentists and restaurants. Any assistance we needed, she gave us accurate information. She was amazing in that she guided us to a perfect house. Suzanne found the difference between finding us a house and finding us a home. She took us by the hand and expertly led us through the buying and financing process without a single issue. Even after the closing, she has maintained contact to ensure that we are well taken care of. She made the experience of buying our home pleasant because for her it was not just the transaction; it was the before, the during and the after. She continues to be a friend to our family long after the closing."
--Joe and Ale, Hingham
"I am extremely grateful to Melinda & Suzanne for their help when searching for my new home. Navigating the frantic Boston real estate market can be a daunting, but Melinda and Suzanne were always a reassuring and knowledgeable resource. They know everyone and everything about the Boston real estate market and their enthusiasm, dedication, and prompt communication made them a pleasure to work with. I always felt that they put my best interests first and I will recommend them to my family and friends in the future."
--Russell, E. Springfield Street, South End
"Melinda and Suzanne were an amazing team, and were the perfect partners for us in selling our home. Their market knowledge, professionalism, and strong judgement gave us confidence throughout the entire selling process and resulted in an outcome that exceeded all expectations."
--Bob and Sarina, Rutland Street, South End
"We had the pleasure of working with Melinda on our purchase in the Boston market. She is extremely knowledgeable and a pleasure to work with. We had no idea about the market, but once we selected a house we gave Melinda some guidelines in the negotiations and she was able to purchase the property under the budget we gave her. We were shocked by this because it would have been easy for her to just go to our max and buy the home. That's when we knew we were dealing with the right realtor. We were ecstatic with the purchase price and truly enjoyed the buying process.
Three years later we had to leave Boston and the first call we made was to Melinda and Suzanne. They met with us and gave us an honest assessment of our property, its limitations and marketability. They had a comprehensive pricing strategy for the property that made sense as it related to the comparable homes in the Boston market. The marketing of the house was first class. We were totally impressed with the professional manner that they presented the house to the market in a prompt manner via online and printed publications. The home sold within 30 days at list price. After the sale closed, they continued to help us with several items which were not their responsibility and we truly appreciated their dedication and commitment to ensuring our sale and move went as planned. Melinda and Suzanne are two dedicated hard working professionals that we would recommend to anyone on the buy or sell side."
-- Joe and Susie Roberts, Scottsdale, AZ
"We want to express our heartfelt thanks to you for all of your hard work, professionalism and organizational skills in making the sale of our home so easy and thorough.
"It was truly a pleasure to work with you both."
-- Lee and Marilyn N.
"Thank you for all your help and for making this house sale go smoothly even from a distance."
-- Bea and Eric S.
"Thank you so much for all of the hard work over the past few months. The sale price was beyond my highest hopes when we first considered selling. Thanks for making the process as smooth as it could possibly be. See you out on the Marathon course!"
-- Scott M.
"We can't say enough about Melinda and her diligence. The moment we first met, she laid her cards on the table and explained exactly what she would do to sell our house. She not only kept her word – she did what she promised with excitement, professionalism and determination. Melinda works hard for her clients, and it was a pleasure to have had an agent as tenacious as her. Melinda has a gift when it comes to real estate, and thankfully we will always have her as our agent."
-- Sean and Christine H.
"Melinda, thank you for your efforts in selling our condo. We appreciated that you stayed focused on its many positive attributes, with buyers as well as with us. Your diligent marketing efforts put us in a good position. We were especially impressed that you held an open house at an unconventional time – a weekday evening rather than the usual weekend time slots. In fact, that creative idea – and your success in negotiating an initially lower-than-acceptable offer into an acceptable one - led to the sale of our unit. It's cleat that you love what you do and are willing to work hard and enthusiastically on behalf of your clients. After nearly 30 years in our condo on Beacon Hill, we were ready to move on. Thanks to you efforts, we have been able to do so happily. "
--Linda and Michael S.
"Melinda, I would like to thank you for your professional handling of my condo listing, marketing, negotiation and sale. You helped get through a few tricky situations. I was very pleased with your price point and quick sale. You were always available to answer my questions, which was very appreciated, since I live in Connecticut. Thanks again for all you did."
--Bruce
"We recently purchased our first home with the help of Melinda Sarkis of Hammond Residential and were incredibly pleased with the entire process. Melinda took the time to understand what we were looking for in a condo and offered great advice and tips along the way. You can tell right away that Melinda loves what she does and is very knowledgeable of the Boston real estate market. Her attention to detail was impressive and we found her to be extremely responsive on all of our requests and emails.
"Melinda also offered helpful insight when we submitted our initial offer and negotiated a fair price in the end that we were very happy with. During the process there were a few times that the seller was not responsive so Melinda took initiative to track them down in order to get us answers. We really enjoyed working with her and would recommend her to anyone looking to purchase real estate in Boston."
--Matt and Katie
"We recently moved from the West Coast to Boston. Melinda was extremely helpful in making our relocation process a smooth one. She found us an excellent home in a competitive market with limited inventory. Her sharp negotiating skills helped us purchase a home that fits our living needs, as well as our investment goals. We couldn't be happier with our experience. If we need an agent in the future, we would not work with anyone else."
—Angie and David
"Thanks again, you made the impossible NOT only possible BUT easy!"
—David and Roberta
"In the purchase of our property, Melinda's knowledge of the market, negotiating skills and enthusiasm were more than we ever could have expected. She will never give you an answer that is not fully researched and will guide you to make the best possible decision. Melinda makes you feel that she is in this for your benefit and not just to buy or sell a property. Working with Melinda will allow you to make the best possible decision possible and you will walk away knowing you did just that!"
—John and Alyssa
"Melinda was an absolute pleasure to work with. She was professional, efficient and accommodating. Melinda has a quality that many other Realtors do not have -- she listened to our needs and requests and responded accordingly. In addition, she has a complete and current knowledge of the Boston real estate market that gave us an edge during our search. She worked tirelessly on our behalf before, during and after negotiations and was a true advocate. I would not hesitate to recommend Melinda to any friend, family member or co-worker since she provides outstanding service."
—Debbie and Bill
"When we decided to sell our unit on St. Botolph Street early in 2012, we engaged Melinda Sarkis on the recommendation of a colleague in the business, and were so glad that we were led to make that choice. From the very beginning, Melinda was proactive in offering a well-documented and clear-sighted evaluation of our property's potential. She shared her deep knowledge of key market factors that were important to position the property correctly and to best advantage.
"Melinda built on the respect that the real estate community has for her and used her contacts and experience to move quickly to an acceptable offer. She and her team then helped us through the maze of negotiation and requirements that brought us safely to closure. Always courteous, always professional, always mindful of our needs, and with a keen eye on the prize: these were factors that led to her success and our satisfaction with a job so deftly well done.
"Since then, we've sung her praises to others in the market and would recommend her heartily to sellers who are looking for a consummate professional who will take their needs to heart and help achieve their goal. Thanks Melinda, for creating and managing an altogether satisfying and successful experience."
-- John and Susan
"We have bought and sold property multiple times in several areas of Boston - Back Bay, Beacon Hill, as well as the South End. We have painfully learned there are many steps to the buying / selling process and regardless how well each step is followed it is the energy, knowledge and individual attention that makes the difference. So that is why we have worked with Melinda. She will partner with you and you can feel confident she will have your back every step of the way and that she will put her experience to work for you 100% of the time. Melinda, along with her assistant/partner Mary were just a treat to work with and they worked very hard to make sure our needs were met at every turn."
-- Kelly and Robin K.