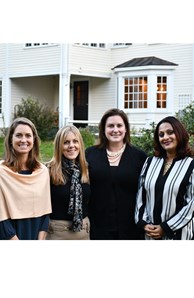 Email

StephanieSugdenProperties@gmail.com

Phone
Office

Natick

31 S Main St Ste B, Natick, MA 01760-4936
More about the Team

Stephanie Sugden, Realtor®
Stephanie grew up in Dover, Massachusetts, and currently resides in Sherborn with her husband and three children. She is an active director of The Friends of the Sherborn Council on Aging as well as The Sherborn Historical Society. In addition to real estate sales, Stephaniersquo;s work experience includes many years as an Estate Manager and Personal Assistant. She also has a background in the Financial Services industry. Stephanie brings to the team well-founded organization and planning experience, as well as a keen sense of luxury home design and deacute;cor.
Margaret Dorsheimer, Realtor®
Margaret has more than 20 years of marketing experience and was Director of Marketing for several biotech companies before real estate. She has a passion for historically motivated architecture and interior design as well as an interest in the history of New England properties, antique homes and equestrian properties. After building her own custom dream home, she offers her clients a wealth of expertise and resources in finding architects, builders and designers in the area for their renovation needs. Margaret resides in Medfield with her husband and two young children.
Itisha Venugopal, Realtor®
Itisha resides in Sherborn, MA with her husband, two children, and their Golden Retriever (who thinks hersquo;s the # 1 child). With a Diploma in Interior design from the Sheffield School of Design (now known as the New York Institute of Art and Design), Itisha has a keen eye for architectural detail and a flair for home staging. In addition, she has spent a considerable amount of time in Regulatory Compliance and as a result, brings with her a fascinating blend of organization and artistry to the real estate trade.
Meg Hyde, Realtor®
Meg lives in Sherborn with her husband and three daughters, where she has been actively involved in the town community since moving there in 2011. She has served on the boards of Friends of the Sherborn Library, the Pine Hill School Advisory, and the Dover Sherborn Middle School Advisory. Megrsquo;s interest in real estate began in college when she worked as an assistant at a real estate firm in Duxbury and gained personal gratification in helping connect people to homes they love. As a member of The Powissett Group, Meg seeks to match buyers with the properties and communities best suited for them, and to assist sellers as they embark on the next phase of their lives.
Lee-Anna Welsh, Realtor®
Lee-Anna was born in Canada but has proudly called the United States her home since 2009. She currently lives in Natick with her husband, beautiful daughter and four fur-babies. She has a degree in Business Management and is currently pursuing a degree in psychology. Lee-Anna's experience with moves both international and local have been invaluable for relocating clients. She prides herself in keeping up-to-date on community events, local information and resources and looks forward to sharing her knowledge and expertise.