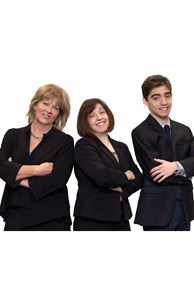 Email

mcauliffe.vaghar@nemoves.com

Phone
Office

Newton

1261 Centre St, Newton, MA 02459-1535
MVP - McAuliffe Vaghar Partnership
Connect with the Team
Awards

International Diamond Society Team
Designations
Accredited Buyer Representative (ABR)
More about the Team
Business Philosophy of the McAuliffe-Vaghar Partnership
With a passion for all things Real Estate we joined forces to form the McAuliffe Vaghar Partnership in 2012. We understand that selling or buying a home can be stressful – our goal is to make the process as smooth as possible. We pride ourselves on having excellent marketing, negotiating and communication skills. Whether we represent you as a buyer or seller client we will be your advocate - we work diligently from our first meeting to the closing and beyond. Together we have over thirty years of experience and have successfully served hundreds of clients.
Testimonials
"Nancy is tireless, knows her markets incredibly well, and will go the extra mile for her clients. I worked with her three times, and she blew me away with her know-how, enthusiasm, and kindness as well. Let's face it: buying and selling a home can be stressful, and expecting the unexpected is a way of life. With Nancy, you are well supported with an expert of the highest integrity and work ethic possible. I highly recommend working with Nancy."
Garen C.
"From the moment I first met Nancy to the day we closed on the sale of my family home, I knew she would be the one i needed to see me through my first time selling a property. She brought confidence, resources, experience, humor and knowledge that I found empowering and crucial to me during what sometimes turned out to be an emotional process for me.
I regard her as one of the most honest and reliable people I have met and I would look to her again when it comes time to sell my next home."
Louisa N.
I am pleased to be able to express my real satisfaction with the service that Nancy McAuliffe provided to me in my role of Power of Attorney for the sale of my wifes family home in Newton. I have purchased and sold over a dozen homes during the many moves that took place during my career. Few of the agents brought the experience and knowledge of the market that Nancy did. The house went to market soon after the 2008 Real Estate market crash. Nancy suggested that if we lowered the asking price a small amount from where I thought it should be there was a chance that we would attract several offers in the first week......I thought she was dreaming. In fact, we did receive several offers within the first few days and the property sold at a very reasonable price in a very short period of time....after which the market continued to drop for another couple of years.
Robert J. K.
Testimonials
I had the opportunity to work with Carol Vaghar when my family and I were selling my mother's home. Carol did an amazing job and we were all very grateful. She was always on readily available when we had any questions or concerns. Her professionalism made the process much easier for all of us. I highly recommend Carol – she is so good at what she does! Janice C.
We just sold our house in Newton and this would not have happened without the help of Carol Vaghar. Carol did an expert job in advising us how to get ready to show the house. Her pricing advice showed her knowledge of the real estate market inNewton. She did an amazing job of marketing the house. And last, but not least, Carol is a pleasure to work with. Catherine F. and Steve W.
Dear Carol,
Thank you so much for all that you have done to make the sale of our home such a seamless process. You provided us with the highest level of service from the pricing and marketing of our home to the smooth closing. Your insights, intelligence and terrific communication skills gave us a comfort level throughout the process. In particular, the care that you demonstrated regarding the pricing of our home was impressive, and we believe this lead to the rapid sale of our property at a fair price for everyone. We couldn't be more pleased with your professionalism and we will recommend your services to our friends and relatives! Jodie and Dick Hale
Expertise
Nancy and Carol have worked with first time home buyers, builders, sellers, as well as rehab/renovation properties and new construction.
Our list to sale price ratio reflects our proven track record of success and illustrates that we can yield the maximum amount of money for your property in the shortest amount of time.