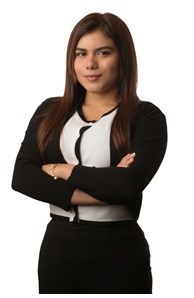 Salesperson
Phone
Team

Market ColumbiaOffice

6031 University Blvd Ste 100, Ellicott City, MD 21043-3533
More about Liliam Serrano
Welcome to the Garner Team at Coldwell Banker Realty, where exceptional service meets unparalleled expertise! I am thrilled to be a part of this renowned team of real estate professionals, dedicated to helping clients achieve their real estate goals.
My name is Lily, and I am a proud graduate of Long Reach High School, with roots in San Pedro Sula, Honduras. As a former Amazon employee and a resident of the area, I possess a unique blend of technical savvy, facilitation experience, and knowledge of the local real estate market, which makes me the perfect choice to help you find your dream home.
With my extensive experience, I understand that buying or selling a home can be a daunting process, but with my guidance, you will be able to navigate the complexities with ease. I specialize in local expertise and can help you find the perfect home that meets all your unique needs and preferences, including proximity to all the neighborhood amenities that matter most to you.
If you are considering selling your home, I can provide you with the necessary support and expertise to ensure a successful sale. From marketing your home to finding the right buyer and negotiating on your behalf, I will be there to oversee the entire process, right up to the closing.
At the Garner Team, we take pride in providing top-notch customer service and going above and beyond to ensure that our clients are satisfied with the outcome. Whether you are a first-time homebuyer or a seasoned investor, I will use my expertise to help you make the best possible decision for your real estate needs.
In my free time, I enjoy playing tennis, riding my beach cruiser, discovering new restaurants, and staying fit. With over 20 years of experience, The Garner Team is dedicated to making sure that our clients work with the best of the best, from start to finish.
So, if you are looking for a dedicated real estate agent who is passionate about helping clients achieve their goals, call me today. With my expertise and the backing of the Garner Team, you can be confident that you are in good hands.