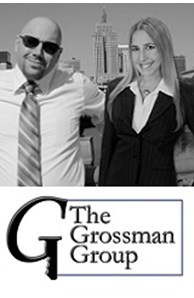 Email

RLGrossman@cbburnet.com

Phone
Office
More about the Team
Meet Our Team
Robbie Grossman, Realtor®
 
Millions in sales volume annually. 
Consistently ranks among top performing Listing and Selling Agents.
Former employee of the City of Minneapolis Police and Fire and Hennipen County Sheriff's Office
Lifelong Twin Cities 4th generation Highland Park Resident
Education:
Cretin-Derham Hall High School / St Paul MN 
University of MN  / Twin Cities Campus
MN Realty School
Coldwell Banker Blue University
Yearly Continuing Education
Julie Miller Grossman, MBA, REALTOR®
School of Environmental Studies in Apple Valley
University of Minnesota (Public Relations)
Master of Business Administration
Former Digital Marketing Specialist and Trainer for Coldwell Banker United, eMarketing Coordinator for Coldwell Banker Burnet, Writer and Marketing Advisor for RE/MAX Commercial national, Director of Marketing for Keller Willliams SWMC Leader, and media relations for Lennar Homes
Resident of the Twin Cities area for 30+ years
Testimonials
After a job relocation to the East Coast forced us to prepare and list our home on a very short timeline, Robbie gave us the guidance and support we needed to get on the market quickly. He and his team provided excellent staging advice, and most importantly, priced the home at a level that no other REALTOR® we consulted came close to reaching. Robbie was right. We very quickly had competing offers and ended up accepting an offer above list price - in March.Robbie was responsive, worked hard, advocated on our behalf and got the results we needed on a short timeline that left us with peace of mind and maximum equity. For that we'll always be thankful. I don't hesitate to recommend him for anyone in need of a REALTOR®. John
We first met Robbie at an open house in February 2014, stars in our eyes and dreaming big we took Robbie on a wild goose chase for our dream home: in a popular neighborhood, and during a cutthroat market period where there were three buyers for every house in our range. During this time, Robbie searched for houses relentlessly and got us into places before anyone else knew about them. Robbie never lost his upbeat attitude and kept us hopeful. Robbie finally found us our home. We would recommend Robbie without any hesitation for too many reasons to list. His attitude, patience and professionalism helped us find much more than just a place to hang our hat. Thank you Robbie. Andy and Elif
We started working with the Grossman Group initially to start getting an idea where we would like to settle down. They were always very patient with us, which is something I didn't always feel with Realtors in the past. Once we got serious on picking something that would suit our needs, we still ran into some hesitations pulling the trigger, which again we were comforted with their patience. By the time we had found our dream home, we felt very comfortable with the process and exactly what we were looking for. The one we ended up finding had multiple offers within days of hitting the market, and only days to put in a final offer. We were able to not only win the bid, but also feel like we won it with a fair amount. I couldn't be happier with the outcome, and the Grossman Group took it the extra mile making sure inspections, code requirements, all the little things were taken care of with our offer. The whole process can be a bit overwhelming, and they definitely had some good contacts that also came through for us when needed.
We quickly realized finding a home in our price range and location was going to be a very competitive process. After settling with the idea of looking beyond our ideal location, we were able to eventually find actually more than we originally could have hoped for. The Grossman's availability and effort put into making all the pieces come together, was definitely a major factor with us closing on our dream home. I can whole heartily recommend the Grossman Group as a team that will make it happen. When it comes down to it that is exactly what I was looking for in a Realtor. Bobby
Robbie helped us find an amazing home in an amazing location. He made the home-buying process easy by taking care of us each step of the way. We love our new home and couldn't be happier! Jess and Joe
Sellers Advantage
What We Provide for You
Customized flyer and brochure
Customized, interactive Flash website for your property
Professionally staged photography
CD/DVD with digital marketing of your property
The most internet marketing available, all featured listings
Marketing to one of the biggest social media networks in Saint Paul real estate
Industry leading Coldwell Banker Burnet marketing tools and services
Regular updates through the sale
Home Enhancement Plan (practical ideas to successfully prepare your home for sale)
Additional marketing may include: event planning, major media relations, direct mail marketing, and more
Learn More about The Grossman Group and the Sellers Advantage HERE
Our Services for Buyers
Experienced Negotiators who help you write the winning offer
Client-Centric Approach focuses on meeting your needs and having a positive and enjoyable experience
Area and Market Experts Helping you find and determine the correct price for your new home, preventing you from overpaying and helping you spot a bargain
Working for You by searching, previewing homes and networking with other agents for the latest listings
Search Like an Agent Internet listings can be days old and inaccurate. We design a search for your specific needs. Or, control your own settings and results. See homes right when they're listed on the market, so you don't miss out on your dream home
Two Agents Working for You means prompt service
Resources and Connections to great loan officers, contractors and more—and we remain a resource long after buying your new home
Specializing In
Highland Park
Macalester-Groveland
West End
Rosemount-Apple Valley-Eagan
Mendota Heights
Northeast Minneapolis
Greater Minneapolis/St Paul Metro Area