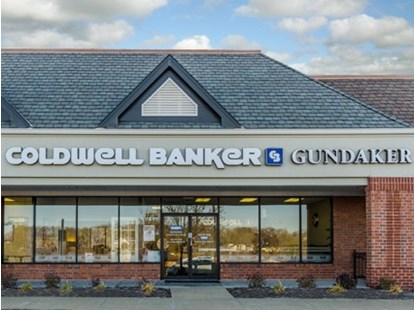 516 Old Smizer Mill Rd

,

Fenton

,

MO

63026-3538
Our office's listings
More about Fenton
The leader in Saint Louis Real Estate!
Thank you for visiting our homepage. Coldwell Banker Gundaker serves the St. Louis real estate market with the strong local traditions of Gundaker Realtors and the global connections of Coldwell Banker. We are Saint Louis' and Missouri's largest real estate company.
Management You Can Trust
Broker/Branch Manager Mike Travaglini has the background with over 39 years in the business and the expertise to make it happen. A top manager collaborating with professional agents. That makes the difference!
Mission Statement
The Coldwell Banker Gundaker Fenton Office is a group of highly motivated and committed individuals that are dedicated to deliver excellent service and commitment to buyers, sellers, the industry, and the community.
Furthermore, the Coldwell Banker Gundaker Fenton office is committed to the recruitment and development of the best individuals in the industry to become part of the real estate group. An open door policy is maintained at all levels which encourages free-flowing communication and exchange of ideas.
The Coldwell Banker Gundaker Fenton Office is known for their character, commitment, and competence at every level of the real estate experience.
Serving the Community
The Coldwell Banker Gundaker Fenton office is located at 516 Old Smizer Mill Road in Dierberg's Fenton Crossing on Highway 141 at Highway 30. From this location, the associates affiliated with the Fenton office serve South Saint Louis County, Saint Louis City, West Saint Louis County, Jefferson County and Franklin County.
Coldwell Banker Gundaker knows the neighborhood and supports the community. The Coldwell Banker Gundaker Fenton office works hard to support local community groups including Ronald McDonald House, Friends of Kids with Cancer Foundation, Old Newsboy's Day and neighborhood Garage Sales.
World Class Technology
Coldwell Banker Gundaker leads all local companies in state of the art technology. Nationally, 45 million dollars per year is spent on Internet technology and Coldwell Banker.com is an industry leader in Internet function. CBGundaker.com. is St. Louis' leading Internet site. It is one of the most sophisticated local real estate Internet sites in the country. All sites are designed to get you the most updated help and to do it right now!
Make one more stop at Coldwell Banker Mortgage. Then go home!
How much house can you afford? Call 1-888-436-6543 to find your loan with Coldwell Banker Mortgage. Get same day mortgage pre-approvals 7 days a week. Then, let your mouse find your house!
Careers in Real Estate
Are you considering a career in real estate? Let Coldwell Banker Gundaker help you get started by doing more than just helping you get your license. By design, Coldwell Banker Gundaker's programs get new agents up and running FAST, while helping you provide buyers and sellers with first class customer service.
Build your career and business with help from nationally recognized continuing education programs. The Coldwell Banker Gundaker Education Center provides new agent and ongoing education opportunities. The best speakers in the industry help educate you on building your business at the monthly sales rally. Weekly office sales meetings keep associates up to date with the latest tools and programs available. In addition, a full branch education program and continual one-on-one development sessions get new agents up and running.
Contact Us:
If you are moving across town or across the country, call us! Coldwell Banker Gundaker is the one real estate company that knows how to make you feel right at home-wherever home may be. Call our office 636-343-1500 or email Mike Travaglini at miketrav@cbgundaker.com. Also, feel free to contact Mike on his cell @ 314-623-7933