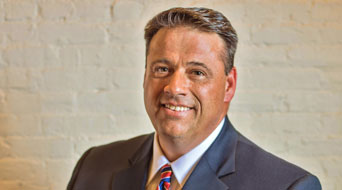 Merit McIntyre
President
Coldwell Banker Residential Brokerage in New England

Merit McIntyre is the president of Coldwell Banker Residential Brokerage in New England. As president, he is responsible for the daily operations of approximately 96 real estate offices and more than 4,400 affiliated sales professionals and employees serving Maine, Massachusetts, New Hampshire and Rhode Island.
Under his leadership, Coldwell Banker Residential Brokerage in New England has expanded its operations by acquiring Hammond Residential Real Estate, one of the leading residential real estate firms in Greater Boston. Additionally, in 2016, McIntyre spearheaded NRT LLC's acquisition of The Collaborative Companies, which is a full-service residential real estate marketing firm that specializes in developing and implementing comprehensive sales and marketing programs for large-scale, vertical urban and suburban development projects.
Prior to becoming president, McIntyre served as the regional vice president of the Coldwell Banker Residential Brokerage Boston Metro region and as the Northeast director of commercial real estate for Coldwell Banker Commercial NRT.
Before that time, McIntyre was the regional vice president of the company's offices in Maine and New Hampshire for three years. A licensed real estate broker in Massachusetts and New Hampshire, McIntyre affiliated with Coldwell Banker Residential Brokerage in 1999 as a sales associate. Within a short time, he was chosen to serve as a sales office manager.
Prior to joining Coldwell Banker Residential Brokerage, McIntyre was affiliated with Coldwell Banker Hunneman King Davis in Haverhill.
McIntyre expanded his career by venturing into commercial real estate serving as managing partner of a commercial brokerage firm and principal of McIntyre, Day & Co., a private investment firm that purchases and redevelops commercial real estate.
A graduate of Harvard University, McIntyre also earned an MBA from Norwich University and has been a frequent speaker at professional conferences and programs. He is active in several community organizations, including The Home for Little Wanderers and Community Servings. He resides in Haverhill, Massachusetts with his family.