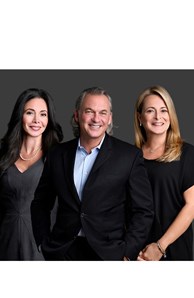 Your Real Estate Agents At The Jersey Shore
More about the Team
The Bosniak Group is truly committed to providing exceptional expertise and professional representation to their valued real estate clients. Through their insightful counsel and comprehensive knowledge in the Acquisition and Marketing of Residential, Distinctive Luxury, Single Family, Townhomes, Condos, New Construction, Waterfront and Investment Properties, you may trust in Eric Bosniak's and Manuela "Charli" Bohm's team of specialist's expertise and accurate assessment. Specializing in NJ's Greater Monmouth and Ocean Counties' real estate market, the team enjoys sharing their perspective into the distinct features of the communities of the Jersey Shore. The Bosniak Group is dedicated to providing their clients with exceptional guidance in their efforts to accomplish and make their real estate dreams come true!
As a Coldwell Banker Global Specialist, Eric & Charli represent their clients with the highest degree of personalized service. Together with The Bosniak Group, they are masterful at executing on their behalf with very strategic and skillful measures that achieve impressive results. Diligent in carefully monitoring the specific trends of the region, the team is dedicated to providing crucial, in-depth local market knowledge. Sellers receive creative and well-organized marketing applications that clearly accentuate each property's specific features. Skillfully leveraging their property's visibility, The Bosniak Group utilizes professionally produced photography together with a presentation in print and on multiple internet and social media sites. When working with buyers, they provide close personal attention and will work tirelessly to identify just the right property that meets their client's lifestyle requirements. Skillfully addressing their investors' interest, they take great care to analyze the investment potential of each property and are highly diligent in researching and providing them with the critical information needed to make thoughtful and balanced decisions.
Eric & Charli and their team of specialists' valued counsel, trusted perspective and skillfulness extend to every aspect of their service throughout the transaction. They are very thorough in providing constant communication about each important detail of the transaction and are always extremely attentive, accessible and respond promptly to their clients. It is truly The Bosniak Group's joy to ultimately fulfill their client's request throughout the transaction and graciously serve them. Their attention to detail, consistent follow through and determination to indulge their clients with first class service sets them apart. The Bosniak Group are highly dedicated professionals who, through their informed and insightful expertise, provide an unprecedented depth of real estate representation
Contact The Bosniak Group to serve you and your personal real estate interests anytime.