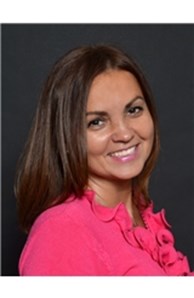 Real Estate Salesperson
Email

Tatiana.Calabrese@coldwellbankermoves.com

Phone
Office
My job is not simply to close a deal but to make the buying and selling process as easy as possible for my clients.
Connect with Tatiana
Awards

International Sterling Society
Languages other than English
Russian
More about Tatiana Calabrese
Business Philosophy

Tatiana's business philosophy is to provide her clients with the most personal and professional service with dedication to their best interest. The focal point of her job is not simply to close a deal but to make the buying and selling process as easy as possible for her clients, which involves the genuine concern and understanding of their needs and requirements. She maintains an open and honest relationship with her clients. She keeps her clients informed and provides them with all relevant information to let them make the decisions. She keeps long office hours and makes herself available as much as possible. When Tatiana's clients wish to contact her personally, they can usually reach her immediately or within a very short period of time. Tatiana's business style involves a combination of instinct and business acumen, knowledge of the law, and codes of ethics in real estate. Tatiana has built extensive networking-relationships with other well-established realtors, attorneys, financial consultants, contractors, lenders, escrow companies, and property owners. She uses these resources for negotiating and creative problem solving and all for the purpose of achieving her clients dreams.
Personal Background

Tatiana Calabrese has a passion for Real Estate, a passion that was fueled at the young age of 21 in St. Petersburg Russia. Soon after the fall of communism and the rise of Democracy Tatiana had the keen sense to invest in her future. While the majority of the country was learning to crawl she decided to hit the ground running. Armed only with a degree in Engineering and a thirst to succeed Tatiana found her way through the process of owning her own home. An investment and a process that proved to be the cornerstone of her future success. Now, over 20 years after coming to the US she once again finds herself smack in the middle of an environment rich with possibilities of outstanding financial gain for both buyers and sellers. Her Tireless Work Ethic and Exceptional Customer Service skills truly sets her apart from most. Whether she is working with First Time Buyers, Sellers or Investors, her goal is the same, to provide each client with the opportunity to REALIZE their goal, VISUALIZE their goal, EXPERIENCE the process in a positive light and ACHIEVE their dream. Prior to joining Coldwell Banker Tatiana spent 10 years in the financial industry working for TD Bank in a Management role. It was here that Tatiana learned quickly the importance of exceptional customer service, especially when it pertained to the Real Estate Process, Laws, Policies and Procedures. Her knowledge and experience of the financial portion of Real Estate has proven to be a tremendous asset for both the Buyer and Seller. Anticipating and Identifying bumps in the road before experiencing them creates a seamless process with less aggregation for all. Tatiana has a love for decorating, running and family. Her progressive thinking and an eye on the future is a perfect compliment for her professionally driven personality. Your dreams become hers. A will to succeed and move forward to help you achieve your goal and hers is what keeps the needle pointed in the right direction and the motor running.
Education and Training

Tatiana holds a Master's Degree in Engineering and Automated Systems from St. Petersburg Technical University
Certified Expert Consumer Mortgage Lender, NMLS #741975
Notary Public'
Awards And Designations

Licensed Associate Broker (LAB)
Member of National Association of Realtors (NAR)
Member of New York State Association of Realtors (NYSAR)
Member of Long Island Board of Realtors (LIBOR)
Participant in Multiple Listing Service of Long Island (MLS)
Areas of Expertise

Nassau, Suffolk county and Queens, buyers, sellers renters, investors.
Community Involvement

Active supporter and volunteer to the American Cancer Society and American Heart Association in their dedicated research effort to prevent and eliminate suffering from cancer, heart disease and stroke.
Communities I Serve

Nassau, Suffolk and Queens