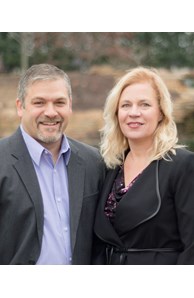 Email

kelly.ludwig@kingthompson.com

Phone
Office
Connect with the Team
Awards

International President's Circle
More about the Team
About Us
David Ludwig began his career with Coldwell Banker King Thompson over 17 years ago. He has year after year been an award winning sales associate, and has leadership experience managing the Bexley Regional office of Coldwell Banker King Thompson.
Dedicated to in-depth real estate consulting and sales, David has stellar negotiation skills, investor and REO expertise and a contagious enthusiasm that his clients find refreshingly suited to serve your real estate needs throughout the Columbus region and beyond. It's not just about one sale, it's about how sound advice based on experience and judgment can lead to long term success and solid relationships.
Kelly Ludwig's professional demeanor, strong marketing skills and an eye for detail has been honed for over 17 years during her professional endeavor's prior to joining forces with her husband, David.Before becoming a real estate professional, Kelly was a successful entrepreneur marketing personalized services to Columbus' executive homeowners, acted as a Household Manager of a multi-home private estate and was co-owner of a upscale Bed & Breakfast.
Together, this dynamic team's commitment to provide excellent service to their clients in order to make the home buying and selling experience as stress-free as possible. Their approach to their business the same way they approach all endeavors of their life: with passion, dedication and a view towards a larger purpose.
They are uniquely suited to serve your real estate needs throughout the Columbus and central Ohio area, through their extensive network of contacts and associates and a real estate package incorporating creative and aggressive marketing and cutting edge technology, including social marketing. Their unwavering commitment to honor the highest standards of ethic in their business practice, have earned them the regard of their fellow agents and clients alike.
Whatever your real estate needs, call The Ludwig Real Estate team.
Subscribe to David and Kelly's Newsletter!