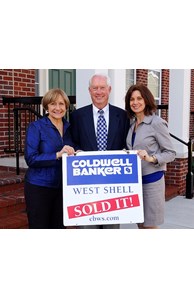 Email

christy.jones@cbws.com

Phone
Office
"The Key To Your Real Estate Needs"
More about the Team
Business Philosophy
Our personal mission is to uphold the slogan in being the "Key to Your Real Estate Needs". We will be there from the beginning to the end and after the transaction has closed for our client's real estate needs. Our company business philosophy is simple: We strive to deliver a positive experience for every customer. This is accomplished through the collaborative efforts of the many members of our team who are dedicated to the success of your housing transaction. For nearly 50 years, Coldwell Banker West Shell has been getting high marks from their home buying and selling customers in Cincinnati, Northern Kentucky and Southeastern Indiana. It is our plan to continue this tradition and we look forward to serving you.
Education and Training
National Association of Realtors Ohio Association of Realtors- OAR President's Club Member annual recipient Cincinnati Area Board of Realtors Circle of Excellence Recipient since 2001 Cincinnati Multiple-Listing Service Loveland Chamber of Commerce
Awards And Designations
Miami University- 1999 Bachelor of Business/ Marketing Concentration
Ohio Real Estate License- 1999 (Christy) 2009 (Jo)
Coldwell Banker West Shell "Top Producer Award"- 2001 & 2003
Coldwell Banker West Shell "Truly Remarkable Service Award"- 2003 (sole-recipient)
Coldwell Banker West Shell Top-40- 1999 - present
CBWS Diamond Society Member for 12 years
Customer Satisfaction Excellence Awards- 1999 – present
Certified Residential Specialist- 2013
Five-Star Professional Customer Service Award- 2012 & 2013 (Jo Helmink)

Areas of Expertise
I have been a Full-Service Marketing Specialist and Real Estate Agent since 1999. I'm a Certified Relocation Specialist and work with the Cartus Network and numerous other relocation companies. Also, I've obtained a new designation of Certified Residential Specialist (CRS) in 2013. Jo has over 17 years of interior design experience to bring to our real estate business. Our clients appreciate this added benefit of aiding sellers in getting their home market-ready through home-enhancement and staging design. We utilize a network of professional vendors, which we have formed over the years and we now call them part of our team!
Community Involvement
Community involvement is a way for me to give back, and in the process, I can learn from others. I started by volunteering with the "Winners Walk Tall" organization at Norwood View Elementary for two 2nd grade classes in 2004. When my children went to elementary school, I started becoming involved in their school and church. I brought the "Girls on the Run" program to St. Margaret of York in 2007 and served as head coach in 2007, 2008 and 2010. I have been a Loveland Welcoming Program promoter & currently a Loveland Chamber member. Living in our first Loveland community, I became involved in linking the local safety department with neighborhood events. Within Coldwell Banker, I volunteered for Habitat for Humanity. I am an avid supporter of our Coldwell Banker Foundation charities, along with the Cancer-Free Kids Organization. My daughters and I volunteer at the Loveland Interfaith Food Pantry.
Personal Background
The Christy Jones Team includes Christy Jones, (a 14-year veteran of CBWS) and Jo Helmink (starting her 5th year at CBWS). As licensed real estate agents, we began working as a team in January 2013. Our team also includes an administrative/marketing coordinator, professional photographer, professional stager and an e-marketing specialist. Being knowledgeable about most areas of Cincinnati from current and prior work experiences is an advantage to our team. Loveland and the northeastern portion of Cincinnati are my areas of expertise because of my daily travels through these communities. My husband and I have two teenage daughters and an elementary-age son who are growing up in the Loveland area. I like to travel, run (I ran my first marathon 10/2004), cycling (I participated in MS-150 ride) and be involved in church/school-related events. I have a lot of family in Cincinnati to enjoy.
Speaking of family, Jo Helmink is my mother, as well as my business partner. She is a 14-year resident of Mason, Ohio. She is married with 3 adult children and 6 adorable grandchildren. This helps her to understand that real estate is not only about the transaction, but about the people involved as well. Living in White Blossom, in the heart of Mason, keeps Jo extremely hands-on with the Proctor & Gamble campus, Deerfield Towne Center, Luxottica and King's Island neighborhoods.

Communities We Serve
Loveland, Mason, Deerfield, Maineville, South Lebanon, Symmes Township, Blue Ash, Sharonville, Milford, Hamilton Township, WestChester, Wyoming, Kenwood, Indian Hill, Mariemont, Hyde Park, Oakley, Anderson, Liberty Township