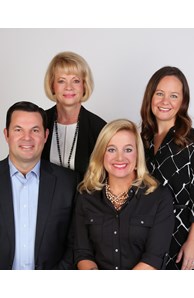 Email

diane.koontz@kingthompson.com

Phone
Office
Connect with the Team
Awards

International President's Elite Team

25 Million Dollar Club

Cartus

USAA Certified Agents
Designations
Luxury Property Specialist (Luxury Specialist)
More about the Team
Team Background
As one of the top producing real estate teams in Central Ohio, the Koontz Team has over 65 years of combined real estate experience. They have sold over $550 million of real estate which equates to over 2,500 homes sold. All members of The Koontz Team are native of the Columbus area and have always maintained the highest level of service to their clients. They are proud that over 95% of their business comes from past clients and referrals. Diane is a highly skilled negotiator and prides herself on making her clients' transactions as stress free as possible while maintaining high ethical standards in the process. Paula is a former CPA, giving her a strong financial background coupled with strong organizational skills and attention to detail, which enables her to deliver optimal results to her buyers and sellers.
Real Estate Credentials
* #1 Realtor team for the entire Coldwell Banker Central Ohio area since 2011
*Top 1% locally of all 5,000 Columbus Realtors
*Top 1% internationally of all Coldwell Banker Realtors
*Columbus Board of Realtors $25 Million Club Award
*Ohio Association of Realtors "Presidents Sales Club Award" 
*Coldwell Banker "Quality Choice Award" - 100% customer satisfaction
Diane Koontz
Diane is a native of NW Columbus and began her real estate career in 1978. Diane and her late husband, Jeff, were one of the first husband and wife teams in Central Ohio and quickly rose to the top of the real estate industry. They both individually achieved their Columbus Board of Realtors 25 Million Dollar Award, which is the highest sales award given in Central Ohio. Often Diane is asked her secret to achieve her high level of sales and she always answers the same way, "I treat each client like family. That is how we built the business and how it continues to grow. I love helping people achieve their dreams and I do it with the utmost respect for my clients needs and wishes."
Paula Koontz-Gilmour
Paula grew up in a real estate family. Her parents, Jeff and Diane Koontz, have been in the business as long as Paula can remember. Paula, graduated from Miami University, worked as a CPA for 7 years and then her heart drew her into to the real estate business. She realized that her skills as a CPA would be extremely beneficial to real estate. In 2000, Paula joined her parents real estate business and she's never looked back. Like her parents, Paula quickly earned Columbus Board of Realtors 25 Million Dollar Award. Paula is a master of time management and her drive for perfection is one of the reasons real estate held so much appeal for her. Paula excels at networking and has built a huge client base through many of the clubs and volunteer organizations she's been involved with.
Lindsey Pusateri

Lindsey has been a licensed Realtor since 2004 and has been with The Koontz Team since 2009. Lindsey has worked in many facets of the Real Estate industry which include Residential Sales, Corporate Relocation and Property Management. Her priority is to provide the absolute best client service experience based on the principles of honesty, sincerity and a straight forward approach. Lindsey handles all office operations, including internet and print marketing and she manages all of the steps once a home is under contract including inspections, financing and other contingencies, ensuring no detail or time period is overlooked. Lindsey has excellent negotiation skills and a strong base of personal contacts that she personally services as her own buyers and sellers.
Greg Koontz
Greg is a native of Columbus and became a licensed Realtor in 2011. Having grown up in a real estate family, Greg's dedication to his clients and his profession runs deep. Whether buying or selling a home, Greg is committed to helping his clients achieve their goals while making the process as enjoyable and stress-free as possible. His vast experience in finance, banking, and construction/renovation give him a thorough understanding of all aspects of the real estate business. Greg is a genuine partner who leads with honesty, integrity, patience and professionalism.
Additional Information
Our Buyers
Home Buyers can trust that we will help them find the perfect home that exceeds their expectations and compliments their lifestyle. We save our buyers from frustration by closely listening to their desires and assisting them to secure the ideal home that meets their needs. We treat each buyer as family, which requires continuous, honest communication with them every step of the way. We walk our buyers through every step of the transaction, including sharing our recommended base of home inspectors, lenders and any kind of service or trade referral they may need.
Our Sellers
Our goal is to make home selling a knowledgeable and pleasant experience. Home sellers are guaranteed a comprehensive marketing plan and a personalized consultation including suggestions for increasing a home's value to achieve the highest sales price in the shortest time with the least amount of inconvenience. In 2009, the Koontz Team started their own staging company, which is a complimentary service provided to our sellers. We cover every aspect of the home, room by room, inside and outside, advising our sellers on furniture placement and ideas on how to make their home look it's very best. Our sellers have free access to over $35,000 of home accessories that we use to stage their home to make it look superior. We then have a professional photographer take all of the still and video photography which is broadcast on over 150 different websites for maximum exposure.
"We honestly feel there is no one in the business that's better." Contact The Koontz Team to assist you with your real estate needs!
Relocation Specialists
Moving to Columbus? The Koontz Team specializes in relocation! They are Certified Relocation Specialists and affiliated with local and national relocation companies. Please let us welcome you to the city as well as provide you with superior buyer representation.
Moving out of town? We can connect you with a successful real estate professional at your destination. We are affiliated with the largest national relocation company in the world and we network with some of the top producing Realtors around the world.