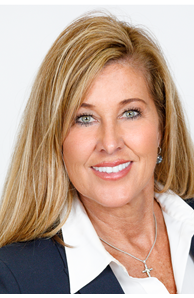 Manager
Email

dee.rink@pittsburghmoves.com

Phone
Office
I am Extremely Enthusiastic About Everything I Do!
Connect with Dee
Designations
Accredited Buyer Representative (ABR), Associate Broker, Smart Home Certified
More about Dee Rink
Business Philosophy

I promise All agents that I manage that I will give them 110%. I believe that Agents want to produce and work Hard for Managers that they See Work Hard. The payoff for me as a Non-Competing Manager is to see Agents flourish and become Truly Successful while Enjoying the Real Estate Profession.
Agent Testimonials
Dee Rink has been my office manager for almost 5 years. I really appreciate the fact that Dee is a cheerleader and supportive of my real estate endeavors. I know it is difficult being the manager and keeping all of the other realtors happy while I have overwhelming projects such as 5000 poinsettias taking up the office. Dee is very good at teaching us all the Coldwell Banker cutting edge technology and keeping us up to date on the ever changing real estate market. Dee has a way of trying to make all the realtors team players. She is very enthusiastic and will always help everyone with a smile. Her positivity and thoughtfulness is contagious, and she is a pleasure to work for.
Georgie Smigel
Dee rink has been an exceptional manage and Is always around to answer questions and help out her agents whenever needed. She definitely goes above and beyond and helps her agents out whenever they run into a tricky situation. She is always available which is a great trait to have in this business as sometimes answers are needed immediately. I can honesty say she is a key force in retaining some exceptional agents in Coldwell bankers cranberry office. If it wasn't for her we wouldn't have been half as successful as we currently are, thanks Imran Paniwala"
Dee's extensive knowledge and experience in the real estate industry, combined with her ability to create immediate rapport with everyone she meets, makes her a valuable asset to everyone in our office. Her genuine nature shows she really cares about her agents and staff. I can go to Dee for everything regarding my business but she is also willing to be a sounding board on a business and personal level. Dee has gone to bat for me in every difficult situation I've encountered, even on evenings and weekends. I trust that she is always my advocate!
Deb Walton
Education and Training
Graduate Saint Vincent College, B.S. Political Science
Graduate Duquesne University, M.A. Public and Social Policy
Awards And Designations
President Council Awards for 2011, 2012, 2013,2014,2015,2016
Accredited Buyer Representative
Community Involvement
Chairperson for 2011-2017 Coldwell Banker Real Estate Services Golf Classic with all proceeds benefiting Make A wish
Active volunteer and fundraiser for The Make A Wish Foundation
Organized Coldwell Banker's involvement in 2005-2008 Pine Richland Township Community Days
Organized Coldwell banker involvement in 2005--2008 Hampton Township Community Days
Participated in Holiday gift wrapping fundraiser for North Hills Community Outreach Association
Two time owner of a Going Home Greyhound retired racing Greyhound
Effective Agent Traininng Strategies
Helping Agents in pricing in Today's Market- CMA, Repositioning & Price Programs
Coaching Agents through individualized Open House training sessions
Effectively demonstrate and coach agents on the Coldwel Banker Listing Presentation
Coach agents to become strong negotiators for both buyers and sellers
Continously provide agents with both inhouse Mortgage and Title support which will allow for more closed transactions
Annually coach agents on their Business Plan for the next year
Communities My Office Serves
Manage those agents that are very familiar with all of the North Hills Area to include: Cranberry Township, Evans City, Adams Township, Zelienople, Butler Area, Beaver Falls, Economy Boro, Sewickley, Ohio Township, Ross, McCandless, Pine/Richland, Hampton, Marshall, Bradford Woods, Franklin Park, and the Greater Pittsburgh Area
Effective Advertising Strategies
As a Manager I will train agents how to effectively demonstrate to sellers the importance of the internet in selling their home
All properties are advertised on several national real estate websites including www.ColdwellBankerHomes.com and www.REALTOR.com
Open Houses are advertised in your area newspaper and on www.OpenHouse.com
Property feature sheets and brochures - Custom designed by our full-service Marketing Department.

Effective Technology Strategies
As a Manager All agents are trained on all internet websites so that ALL listings are given full exposure on the internet and are fully enhanced with unlimited photos, headliners, scrolling text, full detailed descriptions and virtual tours
HomeBase InTouch-Training agents to use this exclusive capabilitiy provided ONLY to Coldwell Banker Agents that allows agents to instantly contact consumers that are asking for additional real estate help via the internet
Social Media- Coach the development of Facebook, Pinterest, and Tweeter accounts and business pages
Home Base - Training agents on our newest capability that allows a consumer to simply go On line and get any documents pertaining to their transaction whether a buyer or a seller
West Penn Multi List - Networks sales associates and homes for sale
Internet Advertising - Our listings stand out from the others with extra photos, more detailed descriptions and Guided Tours
User friendly websites - The Pittsburgh Post-Gazette named PittsburghMoves.com the 'most user friendly' site of any local area company
Virtual Tours - Step inside the picture and get a 360 degree view of each room
HomeBase InTouch - State-of-the-art technology connecting agents with home buyers instantly. All Coldwell Banker agents are equipped to respond within seconds to a customer inquiry, providing a fast, knowledgeable response.
Services for Buyers and Sellers
First Time Home Buyer Sessions - Organize, advertise and conduct Bi-monthly evening meetings

Guaranteed Rate Affinity- Exclusive guarantees and Phone in, Move in Pre-approval Programs. Pre-approved buyers mean less 'fall throughs' at the closing.

The Coldwell Banker Concierge - Can recommend hundreds of service providers before, during, and after you move

American Home Shield Home Warranty - Covered items will be repaired for one low-price deductible.

Relocation Division - Uniquely positioned as the principal broker for Cartus in Pittsburgh to bring more buyers and sellers together.

Specialty Markets - We have separate programs and divisions for luxury homes, commercial property, new construction, auction services, and property management.