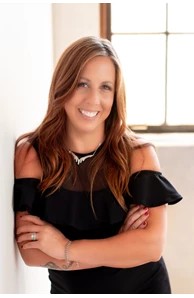 Sales Associate
Email

MELINDA.FISCHER@PITTSBURGHMOVES.COM

Phone
Office
Connect with Melinda
Awards

International Sterling Society
More about Melinda Fischer
Melinda Fischer is a top-producing sales associate in the Pleasant Hills office of Coldwell Banker Real Estate Services. Her philosophy is: Love what you do and you're bound for success. She lives and breathes real estate and has a knack for helping people meet and exceed their property goals.
Since becoming licensed in 2006, Melinda has successfully represented millions of dollars in real estate transactions. Today, she primarily services clients who are looking to buy or sell in Allegheny, Westmoreland, Washington, Beaver and Butler Counties. Melinda also has significant expertise in investment real estate, including rehabs and foreclosures. She works closely with investors to find homes that align with their objectives.
For sellers, Melinda uses her deep skillset, strong local knowledge and extensive network to help them get top dollar for their home. Professional home staging, pinpoint pricing and a sophisticated marketing plan maximize the home's perceived value and bring serious buyers through the front door. She also has a strong network of reputable, trustworthy professionals (plumbers, contractors, home inspectors) to help get the job done while saving money.
For buyers, Melinda utilizes Coldwell Banker's® cutting-edge technology to find homes that match her clients' preferences, budget and desired lifestyle. When it's time to make an offer, she makes sure it is presented in an attractive way and negotiates hard to get the best price.
Melinda was born and raised in the South Hills, so she knows the Pittsburg market inside and out. This gives her clients several advantages, particularly when fast-action is required to capitalize on an opportunity and close the deal. She has also been both a buyer and a seller herself, so she knows exactly what her clients are going through and fights for their best interests at all times.
When not working, Melinda enjoys spending quality time with her two kids and two dogs. She treats her clients like family, which includes being silly sometimes and making light of what can be a stressful process. She has a reputation for overcoming tough challenges, and her clients often say they wouldn't have wanted to work with anyone else.
With her intimate knowledge of the Pittsburg real estate markets, Melinda is uniquely qualified to assist buyers, sellers, investors and those who are relocating from another area. If you are looking for an experienced sales associate who truly cares about the people she serves, talk to Melinda. She will guide you on the path to success
Reviews
Nathan Polen reviewed Melinda Fischer 02/04/2015 Helped me buy a home:
Melinda is helping my wife and I buy our first house. She has been excellent in answering all of our questions and able to get an answer if it is something that is not in her area of expertise. While walking us through the entire home buying process she has been nothing but professional and courteous. We were even looking and buying outside of her normal territory and she has been very accommodating (even in terrible weather and road conditions). I would highly recommend her to any of my friends or family.

Milo Hindman reviewed Melinda Fischer 02/02/2015 Current Broker:
Melinda is very professional and diligent in her Real Estate Business. She has a vast wealth of knowledge and shares it with her clients so they can make the right decisions. I am currently her branch manager and would recommend her highly.
jtub17 reviewed Melinda Fischer 02/02/2015 Helped me buy a home:
Melinda Fischer was extremely thorough. She never kept us in the dark about anything. She was more than willing to answer all of my questions, no matter what time of day, and if she didn't know the answer, she found out as soon as she could. Melinda took the stress out of buying a home.

Effective Advertising Strategies
Seller's have the option for professional photography to help highlight their listings and enhance property views.
All properties are advertised on several national real estate websites including www.ColdwellBanker.com and www.REALTOR.com
Open Houses are advertised in your area newspaper and on www.OpenHouse.com
Property feature sheets and brochures - Custom designed by our full-service Marketing Department.
Effective Technology Strategies
West Penn Multi List - Networks sales associates and homes for sale
Media Partnerships - Our company is the exclusive home search provider on WPXI.com, WTAE.com, KDKA.com and CBSPITTSBURGH.com
Internet Advertising - Our listings stand out from the others with extra photos, more detailed descriptions and Guided Tours
User friendly websites - The Pittsburgh Post-Gazette named PittsburghMoves.com the 'most user friendly' site of any local area company
Virtual Tours - Step inside the picture and get a 360 degree view of each room
HomeBase InTouch - State-of-the-art technology connecting agents with home buyers instantly. All Coldwell Banker agents are equipped to respond within seconds to a customer inquiry, providing a fast, knowledgeable response.
Services for Buyers and Sellers
Coldwell Banker Home Loans - Exclusive guarantees and Phone in, Move in Pre-approval Programs. Pre-approved buyers mean less 'fall throughs' at the closing.

The Coldwell Banker Concierge - Can recommend hundreds of service providers before, during, and after you move

American Home Shield Home Warranty - Covered items will be repaired for one low-price deductible.

Relocation Division - Uniquely positioned as the principal broker for Cartus in Pittsburgh to bring more buyers and sellers together.

Specialty Markets - We have separate programs and divisions for luxury homes, commercial property, new construction, auction services, and property management.
Business Philosophy
Commitment to achieve maximum growth and benefit of clients investments by providing a comprehensive range of the highest quality of services to Seller's and Buyer's.
Communities I Serve
I'm currently working with buyer's and seller's in the Greater Pittsburgh Area while specializing in Pleasant Hills, South Park, Bethel Park, West Mifflin, Munhall, Squirrel Hill, South Side, Mt. Washington, Baldwin, Brentwood, Whitehall, Castle Shannon, and Mt. Lebanon.