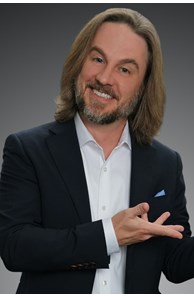 Associate Broker
Email

benny.gross@cbrealty.com

Phone
Office

Frisco

3211 Internet Blvd Ste 150, Frisco, TX 75034-1951
More about Benny Gross
It's not everyday you meet a native Texan, but here I am! I was born and raised in the north Dallas area along with my two younger sisters. As a child, I had aspirations of being a NBA superstar and a comedian, but those dreams failed to materialize. You can't always predict where or when you'll discover what you're meant to do in life, but I'm grateful to have found a career in Texas real estate.

When I was young, I was taught that if you want success in life, you have to do your best and pray that it's blessed. So, that's what I do.

After earning a degree from the University of Washington, I worked for a decade as an outside sales representative in the home furnishings and home improvement industries, which substantially prepared me for the career change I was called to make. I got into the real estate industry in 2013 when my family and I moved to back to Texas from Portland, Oregon. At the time of the move, my wife and I had a one year old son and were also expecting identical twin girls! Excited to be back home (with some more responsibilities), I was focused on building my business in order to provide for my family of five.

Currently, I reside in Frisco, TX, with my wife of 15 years and our 3 lovely children. I love playing games my kids, coaching little league, rock climbing, chasing golf balls around golf courses, and spending time with friends and family.

Throughout my career, I've earned numerous accolades, including top producer awards year after year. I've also hosted numerous real estate award banquets in Dallas, TX, at popular venues like The House of Blues, Gilley's, Toyota Music Factory, and The Bomb Factory.
Now that I've teamed up with Coldwell Banker, my expertise as a Texas broker is backed by a powerful company helping me bring a level of service to my clients that is unparalleled. As always, I aim to provide the highest level of service for my clients and take deep pride in helping them achieve their real estate goals. Never hesitate to reach out to me for any and all of your real estate needs.
Cheers!