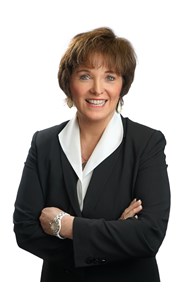 Manager
Email

Terri.Macaluso@cbdfw.com

Phone
Office

Frisco

3211 Internet Blvd Ste 150, Frisco, TX 75034-1951
DFW District Manager
More about Terri Macaluso
About Terri
A native of Chicago, Terri Macaluso moved to the Dallas area in 1989.  For 16 years, she was a top independent sales associate for Coldwell Banker Residential Brokerage in Collin County.
Among her many accomplishments, Macaluso served as the 2015-2016 director of the Collin County Association of Realtors®, the fifth largest real estate association in Texas, with a membership base of about 7,100. She is on its 2017 board of directors and serves as orientation instructor.
Macaluso is a licensed Real Estate Council instructor, where she has authored six mandatory continuing education classes. She also has been appointed for a 6-year term to the broker lawyer committee with the Texas Real Estate Commission.
She is an associate faculty member at Collin County Community College in the real estate school and has edited a law of agency book for Dearborn Publishing Group.
Macaluso strives to be first at everything she does - in service, in commitment to clients, in ethics and first in sales with results to prove it.
If you have a positive attitude and a go-getter philosophy, make an appointment today to "Talk to Terri" about the possibilities!
What others say about Terri Macaluso
"Terri is extremely knowledgeable in the real estate area. She is a great branch manager and always supportive of her agents. She openly shares her knowledge and passion with all. Terri is an excellent teacher and role model for our profession. She always has time to strategize with her agents, which pays off." – Tom McCrory
"Terri is a fabulous branch manager, a great leader and very knowledgeable about the market. She also has a great heart that shows in her work with charities." – Stacey Boyd
"Terri was my real estate instructor at Collin County Community College. She is an excellent communicator, well organized for each class session, and showed enthusiasm for the class subject. I enjoyed Terri's class and decided to join her team in Frisco. Terri is probably the best real estate branch manager who gives you the tools you can use to jump-start your career in a competitive atmosphere. She gave me a great opportunity to succeed." – Angela Powell
"Terri's branch office has a dynamic diverse group of affiliated Realtors® -- tops in the nation -- and is a very successful leader of real estate sales, excellent trainer, motivator and problem solver in our industry." – Debi Leavitt

"Terri Macaluso is a superb branch manager. She is competent, confident and has an amazing knowledge base of the entire real estate business. Her managing skills and techniques are some of the best I have ever seen . . .  and I spent 23 years in the U.S. Navy and seen a lot of great managers . . . but she tops them all." – Barry Hardman
"Terri has excellent leadership and communication skills! Terri knows how to stay on top of the market trends, relate them to associates here at the office and motivate year after year!" – Marc Vita
"Terri's dynamic forward thinking has resulted in creating, mentoring and educating new and seasoned agents. She gives everyone guidance and tools to excel as a Realtor® and truly cares about all the agents in her office. It has been my pleasure to work for her and I appreciate everything she has done for me. Terri is an exceptional branch manager and mentor!"  – Sherry Renfro
 
"She has an open-door policy with the approximately 100 agents affiliated with her office. Amongst her other daily activities, she manages weekly sales meetings, new builders' update and inventory, updates on laws, keeps associates current on education and makes the business fun and challenging. As a Realtor®, she has helped me focus on my goals and helped me mature into a seasoned agent. She has a system set in place, which I have not seen with other competitors. Every Realtor® is willing to provide his or her experience when needed to close the sale." – Kal Rami
"Terri is a great branch manager and agents are her top priority!" – Kay Cheek
"Terri Macaluso is a dynamic leader who has an intrinsic ability to motivate others to reach beyond what they may feel comfortable to realize their full potential!" – Kit Gibson
"Terri is a motivating branch manager with a heart for every agent to succeed. She has a high level of knowledge about real estate contracts and marketing, making her a great value to all the agents she supports." – Cindy Torgussen
"Over the past five months I have worked with Terri, it is apparent she not only knows the real estate business but she knows, and most importantly, likes people. Whether she is helping a new or seasoned real estate person (which she appears to do literally 24/7) or leading the charge on another great charity project, she jumps in with passion and energy. Even though she may not agree with everything you are doing, she provides you enough room to learn on your own without getting hurt too much and has enough humility to also learn from you and others. This to me is a great combination for a colleague, branch manager and just another person who you are proud to have in your network of friends and colleagues." – Jeffrey Fritzson
"Terri Macaluso is a true people person and a knowledgeable branch manager. She is available and approachable, and she has valuable lessons to teach." - Monica Otis
"Terri Macaluso is a phenomenal branch manager. Her comprehensive knowledge of real estate coupled with her real estate teaching credentials allow her to meet any question or troubleshoot any issue that may arise in a real estate transaction. Terri provides excellent educational opportunities for agents, is always available for consultation, and demonstrates a genuine interest in the careers of agents, from novice to top producer. Her commitment to excellence, clients and agents makes me proud to associate myself with Terri Macaluso." – Lisa Owens
"I have had many good branch managers during my years in real estate, but Terri is on a whole different level. She is extremely smart, resourceful and communicates very effectively. She truly is the best and therefore brings out the best in her staff and all her Realtors. I can give her the highest recommendation." – Judi Wright
"Terri Macaluso has an open-door policy and a wealth of knowledge to share with those of us in the office. Her support, encouragement and wisdom is much appreciated!" – Vicki Blanding
"Terri is an outstanding person and branch manager. Terri is highly intelligent, professional, and motivates people to achieve success. I recommend her highly and without reservation." – Sonny Moyers
"Terri sets a great example for everyone around her with a strong work ethic and is known for her integrity. She has a heart for people; clients as well as agents. We are all blessed with her knowledge of the business." – David Pudik
"Terri Macaluso is a fantastic branch manager! I have had numerous managers, but Terri is the hardest working and cares more about agents than any of the others. She is energetic and is always coming up with fresh ideas and doing classes and education to improve herself." – Gail Owen
"With 30 years of sales and marketing experience, I highly recommend Terri Macaluso as a branch manager. She is highly motivated, educated, hardworking, very well liked, respected, and always rises to the occasion . . . She is second to none in experience and is quick to adapt to any situation. She is fair, impartial and gives credit where credit is due. It has been a joy to work with her." – Tommy Brisco
"Working with a group of independent contractors who oversee their own production takes tact and skill. Terri excels in this environment by her consultative style, low-key approach and easy accessibility. She manages to pull the best out of each individual without being overbearing." – Don Cook

"Terri is an outstanding branch manager who leads by example, pays attention to the details, and sets a tone of success with positive energy in the office." – Jill Fugger