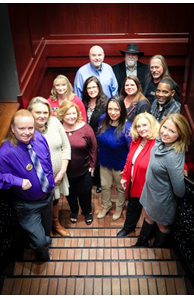 Email

john@windlegroup.com

Phone
Office

Plano

4701 W Parker Ste 650, Plano, TX 75093-3370
Helping You Find A Place To Hang Your Hat
Connect with the Team
Awards

International Diamond Society

International Diamond Society Team
Languages other than English
Spanish
More about the Team
What We Bring to the Table


The Windle Group is a team of dedicated, multi-disciplined real estate professionals who bring together our talents to help you find your home sweet home. We're passionate about our work, and we're committed to excellence in customer service.
The Windle Group was founded in 2013 when John Windle, a Realtor with more than 15 years' experience joined forces with his wife Lynn, a retired corporate marketing communications consultant. Our goal is to bring world-class real estate service and experience to your kitchen table.
We selected Coldwell Banker Residential Brokerage as our brokerage because the company shares are passion and commitment for providing excellence in customer service. On top of all that, Coldwell Banker is one of the most recognized names in real estate, across the Metroplex, across the country and around the world.
Since joining Coldwell Banker, we have consistently ranked in the top tiers within the organization — proving our commitment in getting the job done for you.
WHAT WE BRING TO YOUR TABLE
Whether you're buying your first home or upgrading to your next home, when you decided to move you have many decisions to make…Where will I live? What do I want from a home? What are my must-have amenities? How do I know if I'm getting a good deal? So many questions and so many properties.
Once we have established a direction, we do a thorough search of available properties in the target area that meet your criteria. We spend whatever time it takes to help you find what you're looking for. We won't waste your time on homes that won't just work. After we find the home you're looking for, we roll up our sleeves and go to work. We're tough negotiators who'll help you get the most for your home buying dollars. We know that investing in your home affects not only your pocketbook today, but your financial goals in the future.
By listing your home with us, you gain a team of experienced marketers who design a custom, attention-grabbing campaign specifically for your home. When the offers come in, our negotiators go to work to make sure you get the best deal possible from your home investment.
WHAT MAKES US DIFFERENT

We're available 24/7. We don't take off nights and weekends. We work when you need us. And if your Realtor is out of pocket for whatever reason, someone else from our team is there to answer your calls.
We're accountable to you. In writing. We don't stick a sign in the yard and disappear. When you list with us, we email you biweekly touch points updating you on ongoing marketing activities. When you're buying, we'll talk and text almost daily until after you close.
You pay us nothing up front. We get paid at closing. Period.