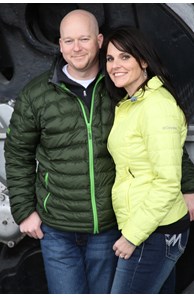 Sales Associate
Email
Phone

Market Station Park Office

172 N East Promontory Ste 280, Farmington, UT 84025-2941
Jeremy and Jennifer are a professional Realtor Team serving consumer needs across the Wasatch Front!
More about Jeremy Holmes
With a shared philosophy, Jennifer and her husband Jeremy, have built a vibrant partnership centering a practice around their clients' individual real estate goals.
While almost always on the clock, when they find a little "down time," it is spent "Making Memories." From remodeling to rock climbing, backpacking to volunteering this dynamic duo is dedicated to living an adventurous, high energy, high impact life. Everyone who knows these two asks when their "TV" show is going to air. Honesty, integrity, and creative ways to find solutions ensure family, clients, friends and loved ones' needs are well cared for. Whether answering each other's phones or "On-Belay" Jennifer and Jeremy are inseparable in business and in life.
Jeremy began his real estate career following 9 years of post-secondary education studying the human mind, its functions and how it affects behavior. With this education, he is uniquely trained and qualified to listen for, empathize with, and understand client's needs. His keen business mind and understanding of human behavior brings a wealth of expertise to real estate marketing, negotiating, and investing in what is often one of life's most significant financial investments.
Creative problem-solving, dedication and follow-up are hallmarks of the customer service Jennifer provides. She has a demonstrated record of accomplishment in identifying solutions to issues where no solution seems to exist. The hard work, persistence, and dedication to customers' needs has earned her the respect of her colleagues and numerous awards for professionalism, communication, and customer service. Those who have had the privilege of working with Jennifer would, "recommend her to anyone!"
Together Jeremy and Jennifer are a dynamic team, focusing on your individual real estate needs.
Visit us today: www.Holmes2Home.net