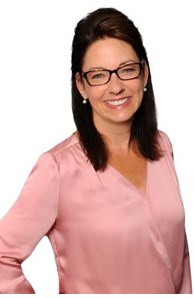 Branch Vice President
Email

kelleyneumann@cbrealty.com

Phone
Office

Hudson

1301 Coulee Rd Ste 3, Hudson, WI 54016
Rule Yourself! Become a Real Estate Agent!
Connect with Kelley
Designations
CDPE, Short Sale and Foreclosure (SFR)
More about Kelley Neumann
I am truly excited about my role as Branch Manager for such an incredibly dynamic and talented group of sales associates.
WHY?
YOU! - At Coldwell Banker Realty, we combine the power of the world's most recognized real estate brand with talented, knowledgeable practitioners who have a passion for assisting people with their real estate needs. Management and staff are equally committed to helping our agents achieve their business goals. If you are an experienced REALTOR looking for a new home for your career or a brand-new licensee just starting out, it's my pleasure and joy to speak to you about your plans and how we can help YOU live an exceptional life. Yes, you can!
Management - As a non-competing manager, Kelley devotes her time to ensuring the success of every REALTOR. She is committed to helping each one develop a business plan and enjoys meeting with them to review and reassess their goals. You have her support! Her top priority is helping our agents to achieve their dreams and improve their quality of life. The support of Kelley and the office staff helps free up their time to either seek new business or devote more time to their personal endeavors. As John Rohn Quoted, "You can get more money, but you cannot get more time." Could you use more time? I challenge you!
Administrative Support - The Hudson office has full time staff members to support REALTORS with their administrative needs. They serve as transaction coordinators throughout the home sale process and are available for marketing assistance or additional services as required. Is organization one of your skills? Not for most of us in the real estate business. No worries, we have you covered. ALL of us here at Coldwell Banker Realty share in the same goal: Helping YOU live an exceptional life. Follow us…….
Helping YOU Live an Exceptional Life!
Production Power - Coldwell Banker is a company that is always on the cutting edge of emerging trends and technologies in the industry. Our associates have access to a wealth of tools, including a CRM system, e-Marketing suite, digital listing presentations, listing concierge to deliver REAL value that leads to your increased growth. Our agents sell more homes, make more money, and work more efficiently. Is this something YOU would benefit from? I think we all would. Experience our Superpower!
Coaching to Confidence - Our associates have access to a magnitude of educational and technical support opportunities, including required courses for CE credit, many at no cost to our agents. No boring, watching paint dry real estate classes here! Our phenomenal instructor, Rob Phyle, is as entertaining as he is full of the most current, competitive advantages for your business. Our network of collaborating agents through MN WI are at your fingertips. It's how we do it. Coaching to Confidence is why we are #1 and 114 years strong. Would knowing what your competition and peers are up to help you? Then Coldwell Banker Realty is for you! You'll experience engaging instructors with a wealth of knowledge and an easy-going, entertaining style of presenting information, both Online and Live! Our classrooms share experiences! Take Advantage!
In-Office Coaching - Branch leader Kelley Neumann offers in-office coaching on an individual or small group basis. We regularly get together to review the use of our tools, making sure that we are utilizing everything that's available to our agents to help them achieve their goals and grow their business and keep them competitive in the current market. You can do it! No team necessary. We build you strong and knowledgeable! And we want you to keep your paycheck. With over 15 years of experience as an agent. I know how hard you work. Is being confident in all your decisions with your business and clients something you could use a little bit more of? Kelley's goal is to see you reach your full potential and succeed. Believe in yourself!
Culture of Awesomeness - At Coldwell Banker Realty – Hudson, we have a great time and great strength!! We are a hard-working group of professionals that enjoys learning and celebrating our successes. Whether we are doing something out in the community, having a Lunch and Learn in the office, or hosting an event, we support each other. From experienced colleagues to rookies, we recognize and reward exceptional talent. With one of the highest Productivity Per Person in the industry, we not only work hard, work smart, we Rock! We support multiple local causes including Bridging and Toys for Tots. To get an idea of what it's like to work with us, please follow us on Facebook. Be Awesome with us!
Wealth Builder - After all that, you'll find that being part of our Freedom Commission Schedule will allow you to make better choices with your money, add take advantage of our SEP plans for your retirement. Join us yearly at our Health and Wealth Expo where professionals share ideas on investments, personal health, tax planning and money strategies. Could you use some passive income from simply working with your friends? It's all here. Be here!
My final words:
· Yes, you can!
· I challenge you!
· Follow us!
· Experience our Superpower!
· Take advantage!
· Believe in yourself!
· Be Awesome with us!
· Be here!
Whether your goal is to be Big or Small, you'll be among the best by choosing to be a part of our Hudson Office.
WE believe your best years are ahead of you.
We are always looking for talented people to join us! My number one goal is "Helping YOU Live an Exceptional Life!
Please contact Kelley for a confidential discussion about the future of your business and how she can help you.
Call 651-247-5853 to join us at the next level.
Testimonials:
"Kelley is one of the most caring and gentle leaders with a drive that wants to win. She is a great listener which makes her a fantastic and dedicated coach and mentor to her agents. Kelley is organized and has an extraordinary ability to read people. I highly recommend Kelley as a coach, mentor and business partner to anyone that wants to grow their business to the next level." Brian Bolier, Regional Vice President - Coldwell Banker Realty
"Kelley and I have been working together for 15 years. During that time Kelley has been nothing short of amazing. In addition to becoming a very successful Realtor, Kelley has shined as being part of the most productive, hardworking agents who are always willing to take the time to help out other agents." Chuck Stout, Branch Vice President – Coldwell Banker Realty
Our team has worked for Coldwell Banker Realty since 1997. We have stayed with this company this long due to the leadership, brand power, agent support and technology advancements. We are part of the Hudson office and thrive on the small office feel, personal touch and great agents that all work hard. The office has a great "team" atmosphere with fellow agents allows willing to help out and go the extra mile for each other. Brian J Johnson~President,The Johnson Group
When I first started working in real estate, I didn't know what to expect. I had never been self-employed before, and heard that realtors were in a dog-eat-dog world. At the Coldwell Banker Hudson office, that was far from the truth. I was welcomed by young and experienced agents, and if I ever had a question (and still do!) I could go to anyone and get their experience, advice, and expertise on the issue. The job is different every day, and the situations we encounter are ever-changing. It is awesome to have people around you that are willing to help, offer their insight, and encourage you to grow. Jason Neuhaus - Coldwell Banker Realty
Through Kelley's guidance and training, I have been able to gain a lot of knowledge and confidence in my business in this first year. I can't imagine how different I would feel now if I hadn't been this fortunate to join this incredible office with a leader like Kelley." -Cathy Knight, Sales Associate -Coldwell Banker Realty.