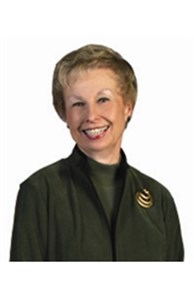 Associate Broker
Email

beverly.trunick@azmoves.com

Phone
Office
More about Beverly Trunick
Business Philosophy
Beverly is committed to having an open, honest relationship with all of their clients. Beverly's real estate experience expands over the last 36 years to bring you, the client, professional knowledge, dependability and reliabilty. She is committed to serving YOUR needs.
Beverly moved from Portland, Oregon, in 1996, when Green Valley quickly became the home she had always desired. Upon arriving in Green Valley, Beverly became an associate broker.
Beverly is committed to volunteering for her community. She has served as Treasurer for the Green Valley Assocation of REALTORS®, as secretary for 8 years on the Good Old Fashioned 4th of July committee, as Special Events chairperson for the Green Valley Sahuarita Chamber of Commerce. Beverly is also past President of the Board of Directors for the Green Valley Sahuarita Chamber of Commerce and served 6 years as a Director for the Green Valley Sahuarita Chamber of Commerce.
For further information about our wonderful community whether it be an interest in new homes, resale homes, active adult activities - such as golf, tennis, hiking, birding, etc., call Beverly (toll free (877) 234-7640) or if you would just like to have a tour of Green Valley, please call Beverly. Come see for yourself just how wonderful this community of Green Valley can enhance your life!
Education and Training
Beverly has been a licensed real estate agent since 1975 beginning her career in Portland, Oregon. Upon moving to Green Valley, AZ, in 1996, Beverly studied for her Associate Broker license, earning her license in 1996. She specializes in residence properties, with a background in property management.
Awards And Designations
Beverly became a licensed Realtor in 1975 in Portland, Oregon.
Beverly earned her GRI (Graduate of Realtor's Institute) in Portland, Oregon.
Beverly earned her Associate Broker license upon moving to Arizona in 1996.
Beverly was honored with the Coldwell Banker Residential Brokerage Dan McEvoy Award for Outstanding Community Service in 2006.
Beverly was also greatly honored with the Green Valley Sahuarita Association of Realtors "Realtor of the Year" Award in 2006.
Areas of Expertise
Beverly's area of expertise is Green Valley, Arizona, and the surrounding areas. Green Valley is her home! Let her tell you about the wonderful community Green Valley is and what it can offer you!
Community Involvement
Since moving to Green Valley, Beverly has committed her volunteer time to the Green Valley Sahuarita Chamber of Commerce earning a Directorship on the Board eventually becoming the President of the Board of Directors. Beverly continues to be involved with the Chamber and its many activities, such as serving as Special Events Chairperson, Secretary of the Good Old Fashioned 4th of July committee, By-Laws Chairperson and assisting with the negotiating of the lease agreement for the Chamber building. The Chamber and its activities are very dear to Beverly!
Personal Background
Beverly was born and raised in Illinois - the northwest suburbs. After earning an Associate Arts degree, she married, transfered six times in seven years before settling in Portland, Oregon, where she lived for 25 years and raised her two children. In 1996, she moved to Green Valley (the best active adult retirement community!) and earned her Associate Broker's license. Her association with the Green Valley office of Coldwell Banker Residential Brokerage has been very successful, enjoyable, and, as with everything in her life, a great learning opportunity.
Communities I Serve
Beverly specializes in the Green Valley area.