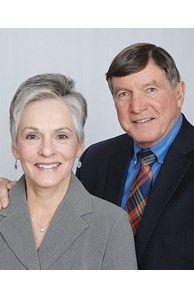 Sales Associate
Email
Phone

Market Green ValleyOffice

180 W Continental Rd Ste 100, Green Valley, AZ 85622-3597
FOR A SATISFYING, MONEY-SAVING REAL ESTATE EXPERIENCE, CONTACT CATHY AND TOM!!
More about Tom Williams
CATHY AND TOM WILLIAMS: OUTSTANDING REALTORS!

TWO AGENTS FOR THE PRICE OF ONE, MEANS MORE:
ADDED VALUE: We're TWO licensed, responsive and dedicated Real Estate professionals you can count on every step of the way.
OUTSTANDING CUSTOMER SERVICE: In today's market it's more important than ever to deliver exceptional and proactive customer service. We partner with you to provide the tools, resources and knowledge to help you make informed, money saving decisions.
KNOWLEDGE & EDUCATION: We value life long learning and continually attend training sessions, workshops and seminars in order to provide you with the most relevant information and guidance available.
TOOLS AND RESOURCES: We effectively utilize the latest tools and technology to deliver the most comprehensive selling and buying strategies. Our web-site - 

www.tomwilliams.cbintouch.com

- is a one-stop resource for all of your real estate needs. Further, we write & issue - TO ABOUT 2,000 ADDRESSEES - a Quarterly Real Estate E-Mail newsletter that provides valuable market data and information.
ADVANTAGES FROM COLDWELL BANKER RESIDENTIAL BROKERAGE: Our affiliation with Coldwell Banker provides our Buyers and Sellers with the highest quality exposure BOTH nationally and internationally.
COMMUNITY INFORMATION: As your neighbors, we truly enjoy and appreciate the community we work and live in. We take pride in being informed, and we're active members of community organizations such as:
• Green Valley/Sahuarita Association of Realtors®
• Tucson Association of Realtors®
• Green Valley/Sahuarita Chamber of Commerce
PROVEN SUCCESS: We have been consistently recognized as top producing Realtors® in Southern Arizona, thanks to our loyal clients and our passion for what we do.
AREAS OF EXPERTISE:
Just about everything involving Southern AZ Residential Real Estate: Retirement Homes, Move-Up Buyers, Lifestyle Homes, Vacation/Second Homes, Buyer Representatives, Listing Representatives, First-Time Homebuyers, Short Sales/Foreclosures & other distressed property situations.
COMMUNITIES THAT WE SERVE:
Green Valley, Arizona - truly a wonderful place!!
To discover more of the excellent benefits you get from Cathy and Tom, check out our Web Site!
Education and Training

Tom: Bachelor of Arts, Degree, with a Speech Major and History and English Minor, Wabash College, Crawfordsville, IN - 1965;
Master of Business Administration, Northern Illinois University, DeKalb, IL - 1972;
Cathy: Bachelor of Elementary Education, University of Colorado, Boulder - 1971
Both of us: Intensive Green Valley/Sahuarita Real Estate Experience since 2002.
Areas of Expertise

We've done extremely well working with Buyers and Sellers since 2002, covering all aspects of Buying and Selling Residential Real Estate in the Green Valley/Sahuarita Marketplace.
Community Involvement

We love Green Valley, and have been active in our Homeowners' Association and the Green Valley/Sahuarita Chamber of Commerce. We have focused strongly on Real Estate, which has given us the wonderful opportunity of making a ton of new friends here - and we're very happy to say that our clients become our friends!
Personal Background

Tom and Cathy have had a fond association with Green Valley since 1973 when Tom began annual visits his parents during the Xmas holidays.  They have been living in Green Valley since 1998 and escape the hot summers by going home to Michigan for several months each year.
Tom has over 25 years of human resources, recruiting and high-tech customer service experience with companies such as Intel, Digital Equipment Corporation and Compaq  Computer Corporation.  He holds a Bachelor of Arts degree from Wabash College in Crawfordsville, Indiana, and an MBA from Northern Illinois University in DeKalb, Illinois. Tom served his country in the US Army from 1966 – 1970, and was a Company Commander at Ft. Gordon, GA for the final year of his service.  He's been a licensed real estate agent in Arizona since 2001 and is also licensed in Michigan.
Cathy is a graduate of the University of Colorado in Boulder.  Following graduation she worked as an Elementary Education Teacher and then began a career in advertising and public relations.  Eventually she became Business Manager of a publishing company in Southeastern Michigan, a position she held for 13 years. 
Communities I Serve

We spend most of our time working in Green Valley and Sahuarita, but we've also done extremely well representing Buyers in Tucson.