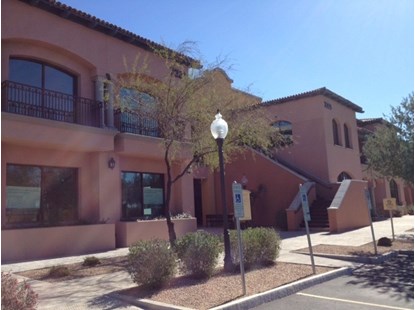 7221 E Princess Blvd Ste 117

,

Scottsdale

,

AZ

85255-9669
More about Scottsdale @ 101
The Scottsdale @ 101 offices has excellent access to the Valley's freeway system, where the independent sales associates serve clients throughout Scottsdale, Paradise Valley, Pinnacle Peak, Troon, Carefree, Cave Creek and the greater Phoenix area including Desert Ridge, Arcadia and the booming Northwest, Southeast and West Valleys.
Connie Manzano and the entire administrative staff at the Scottsdale @ 101 office are dedicated to providing the ultimate in customer service. The Scottsdale @ 101 sales associates are held to the highest in standards of professionalism and work tirelessly to create a positive experience for their customers. Scottsdale @ 101 is a client centered office environment with emphasis on superior customer service, including Coldwell Banker's exclusive Concierge Program to further enhance customer/client focus.
Are you are looking for access to optional Professional Skills Development, Business Development and Mentoring programs or increasing performance and building a sellable Real Estate business asset at the time of retirement? If so, you owe it to yourself to call for a confidential, candid, frank strategy session regarding your untapped potential and how partnering with Coldwell Banker Residential Brokerage and the award winning Scottsdale North @ 101 branch; will help you be the Top Listing and Selling consultant you are capable of being. Whether buying or selling in the Valley of the Sun, you can count on superior service and performance from our licensed sales associates. Please phone or email me for a confidential meeting or a recommendation of a Scottsdale @ 101 sales associate.
Communities we serve and areas of expertise
The Coldwell Banker branch located in North Scottsdale proudly serves South, Central and North Scottsdale, including Troon. Additionally serving the Phoenix metropolitan area including Central Phoenix and Paradise Valley. The look forward to serving you wherever your move takes you. North Scottsdale sales associates are proficient in the marketing and local, national and international exposure of a property to assist a seller in obtaining the highest price possible in the least amount of time and the fewest problems. If you are a buyer, we offer perfected negotiation skills to help obtain the property of your dreams and a price and terms that will assure you of the best representation possible.
Community Involvement
The North Scottsdale Branch@ 101 is active with many community outreach programs including Habitat for Humanity, Adopt a Family and the Yearly back to school Back pack drives. The North Scottsdale office also proudly participates in the Equestrian arena and the various events throughout the year as well as the Barrett Jackson Event and the many Golf Tournaments for various Community events.
Learn More About Connie Manzano

(Maricopa County/Northern Arizona)

Click to expand this Education Calendar
As an independent contractor sales associate affiliated with the Company, you may choose to participate in or use a variety of resources, tools, technologies and educational opportunities available to you. Company educational materials, programs, or meetings that are not for compliance (compliance includes, but is not limited to, licensing requirements, fair housing, RESPA, data privacy, records management) are optional for independent contractor sales associates. Use of any suggestions or best practices in such materials or programs is discretionary. Your affiliation with the Company is intended to be that of an independent contractor sales associate, not as an employee of the Company.