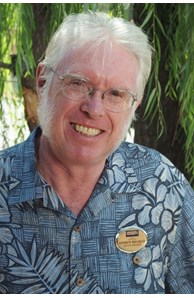 Branch Manager
Email

andrew.brearley@azmoves.com

Phone
Office
More about Andrew Brearley
Hello!
I have been the manager of the Sedona office since 1985 and my greatest pleasure is to help our clients and agents to successfully navigate their real estate transaction. I am available when you need me, so don't hesitate to get in touch.
I believe that a well-trained agent is the true key to success in this business and that is my specialty. As a non-competing manager, meaning with no clients to represent except those of our agents/company, I help our agents create a Business Plan and then I coach them to success through motivation, inspiration to be their best, mentoring and training in the areas where needed – I am only as successful as the agents I work with.
We also have many tools and resources at our disposal to accomplish a successful sale, not least of which is our Marketing. With almost 90% of buyers starting their search online, you'll be pleased to know we have agreements with Zillow, Trulia, Realtor.com, Google and others that allow us to distribute our listings to over 650 websites worldwide. This is in addition to our many print outlets such as The Sedona View, The China View and The Arizona View magazines.
Our Technology Tools are equally impressive. We have proprietary platforms that provide consumers with immediate response to their inquiries as well as back-office systems that facilitate the processing of our transactions.
Testimonials:
"There were so many things to evaluate when "shopping" for a brokerage home, but ultimately the person leading the team was of the utmost importance. Andrew shines in every way with his calm, cheerful demeanor, extensive market knowledge, ability to inspire, encourage and educate on every level. He fosters a team atmosphere in a very competitive market that is an absolute pleasure to work within and is well respected throughout the industry. He is truly an invaluable partner in my success!"
Sara Marshall.
"Andrew Brearley is by far the best manager that I have ever worked with in my 16 years as a Realtor…and Andrew's capabilities far exceed expectations. His never-failing patience and reasonability continue to find level-headed and successful solutions to even the most tedious of issues that arise in real estate transactions.
I couldn't ask for a better person to emulate, admire and learn from"
Laura Vida.
"I first met Andrew Brearley when I came to Coldwell Banker Residential Brokerage. He is not only my manager but my mentor and I feel as a result of his guidance I have progressed more rapidly than expected. Andrew is a person of great integrity and maintains a positive attitude at all times. I have great respect for him!"
Jonelle Klein.
To learn more, contact me for an informal chat and let Coldwell Banker show you how real estate should be transacted. Thank you.
Andrew Brearley,
Branch Manager.
Past-President Sedona Verde Valley Association of Realtors; Realtor of The Year, 2012.
Past-President Sedona Midday Rotary Club.
Arizona Community Foundation's "Spirit of Sedona" award winner.
Helping Agents Live Exceptional Lives.