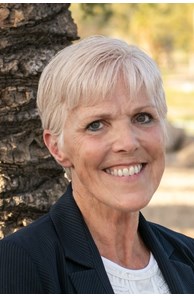 Sales Associate
About Trish
Designations
Master of Business Administration (MBA), Senior Real Estate Specialist (SRES)
More about Trish Kiel
I grew up in an Illinois town so small that when my Dad was village clerk, the "village hall" was our house!  I earned a nursing degree from Northern Illinois University and an MBA from Keller Graduate school, all while raising three children, managing an Emergency Department, and working full time nights.  Multi-tasking, advocacy and attention to detail are my superpowers.  Moving to Chicago West, er, Arizona in 2004, I knew I had found "home" as soon as I stepped off the plane and felt that Arizona sun on my face.  It's a dry heat, but so's a blow torch…
I relocated to Arizona for a health system VP position and stayed for the lifestyle.  I work hard, while balancing that with running, hiking, biking and swimming with my grand babies.  I am co-owner of a construction business with my husband, and through that enterprise, I fell in love with houses; it felt like a logical transition once I retired from healthcare to make the move to real estate. 
 I've been described as a dedicated, passionate, driven, knowledgeable and trusted leader who not just hears, but listens, who is reverent and respectful, honest, and straightforward, and has your back in a negotiation.  I believe those attributes translate well into my role as real estate agent.
I am passionately dedicated to providing unparalleled service and market-leading experiences to my real estate clients. Compassionate, heart-centered collaboration, integrity and consistently impressive results are my touchstone. My hallmark is respect - for you - for your memories - for your future. I am driven to be the real estate agent of choice for those who value personal relationships over transactions, exceptional performance, and authentic service. How may I best be of service for you?
Values
Compassion         Demonstrate compassion for the human experience
Value                    Overwhelm with value
Reverence            Regard with reverence and respect
Innovation           Embrace innovation
Communication   Intentionally communicate
Excellence            Strive for excellence